Aloê Vera voor inwendig gebruik als ook voor op je huid
Vorige week vroeg mijn huisgenoot (ze is medewerkster in een natuurvoedingswinkel) mij om toepassingen van Aloë vera. Ze krijgt namelijk steeds vaker die vraag van klanten, die zo'n lang blad zien liggen bij het fruit. Ik had niet direct een compleet antwoord. Dus heb ik het uitgezocht.
Wat is Aloë vera?
Aloë vera is een zgn. vetplant. Een tropische. Een echte eyecatcher in huis die weinig onderhoud nodig heeft en het natuurlijk goed doet in de zon maar ook prima in de halfschaduw kan staan.
Van de 300 types Aloë, zijn er maar 4 met een medicinale werking. De topper is Aloë vera. De vetplant heeft verzachtende en helende eigenschappen, zowel inwendig als op je huid. En daar waren ook de Azteken en de oude Grieken en Egyptenaren al achter.
Klinkt als de ultimate friend, niet?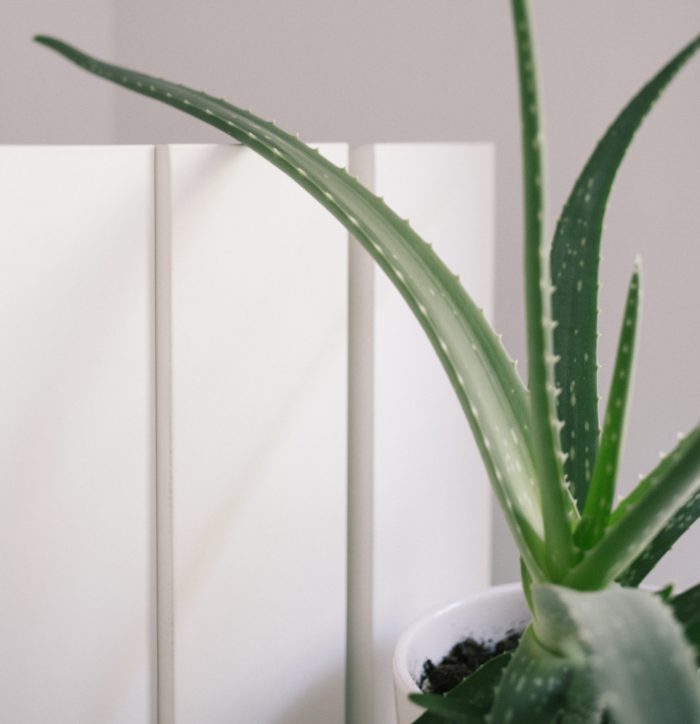 De toepassingen van Aloë vera
Aloë vera op je huid
Het plantensap lijkt op gel; dat kan je gebruiken voor insectenbeten, kwallen- en zonnebrand, blaren en ook als je je hebt gesneden tijdens het scheren. Of gebruik het na het waxen. Gewoon het binnenste op je huid laten druppelen en wat uitsmeren. Eventueel een verbandje erover maar dat ligt aan de wond of kwaal natuurlijk.
De gel wordt ook veel, heel veel, in cosmetica en verzorgingsproducten verwerkt, vanwege de verzachtende en helende eigenschappen. Ook voor littekens, als masker en als nachtcrème en als ingrediënt voor een goede scrub. De gel zou zelfs helpen bij cellulitis, acné en Psoriasis.
Aloë vera voor je mond
Aloë vera-pulp verlicht tandvleesontsteking of stomatitis. Maak het in een vijzel fijn (plant en gel) en wrijf het in je mond, precies daar waar de wond of ontsteking is.
Aloë vera in je haar
Ik heb dit nog niet geprobeerd, maar je kunt de gel gebruiken als conditioner voor je haar. Goed inmasseren geeft bovendien een extra ontspannende werking.
(Pssst.., het zou ook goed zijn voor je hond of kat in geval van vlooien.)
Aloë vera in je drankje
Als je de gel in de buitenlucht laat opdrogen, kan je het in je smoothie, water-/melkkefir of glas lauw water mengen. Supergezond! Gebruik het bij constipatie en obstipatie, als ondersteuning bij je detox of als je de alcohol van het weekend er even goed uit wilt ontgiften. En ja, het helpt dus ook bij het afvallen…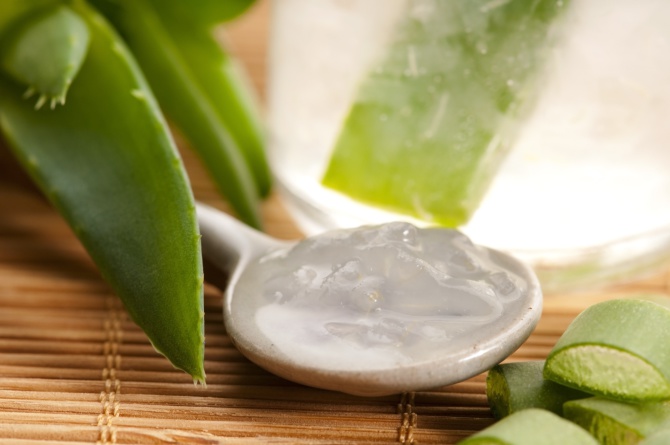 Gezondheidsvoordelen van Aloë vera
Aloë Vera bevat veel gezonde stoffen; hou je vast:
veel vitamines waaronder C, E, B1, B2, B3, B6, B11 (Foliumzuur) en B12. Het bevat ook nog 's calcium, ijzer, zink, kalium, natrium, mangaan, magnesium, koper, seleen, fosfor en zwavel. En dan heeft de vetplant ook zo'n 20 verschillende en belangrijke aminozuren voor je in petto. Yesss!
Contra-indicatie Aloë vera
Inwendig gebruik tijdens de zwangerschap wordt afgeraden. De aanwezige alloïne zou een sterk laxerende werking hebben.
Zelf aan de slag met Aloë vera
Snij een buitenste blad af. Laat het dan 15 minuten met de open einde naar beneden uitlekken in een bakje. De donkergelige olie die daarna in het bakje is opgevangen, direct weggooien ajb, want die is lichtelijk irriterend voor je huid.
Daarna snij je langs de lengte de tanden van het blad af, en snij dan de andere zijde door alsof je een pita-broodje open snijdt.
Schep dan met een lepel al het gel van het blad af en bewaar het in een gesteriliseerde pot met deksel.
Daarna heb je de keuze: gebruik het voor je drankjes, of neem steeds een hoeveelheid als vochtinbrenger, helende creme en dergelijke, zoals ik hierboven aangaf.
Probeer ook eens een 1/2 kop te mengen met een 1/4 kop gesmolten bio kokosolie als helende, vochtinbrengende massagelotion, of meng het met Manuka-honing voor een super gezichtsmasker.
Er zijn ook genoeg Youtube-videootjes te bekijken hierover. Dit is er een eentje van:
Aloë vera oogsten
Dan moet je natuurlijk nog weten hoe je de plant, de gel erin, oogst.
Ga voor de grotere en lager hangende bladeren, deze bevatten meer sap. Zo stimuleer je ook de groei vanuit het midden van de plant, want wat er af gaat groeit er niet meer bij.
Gebruik dan wat je nodig hebt, en wikkel de rest in doorzichtige huishoudfolie. Je kan de stengels invriezen voor een paar maandjes; je kunt ze ook enkele dagen in de groentenlade van je koelkast bewaren.
Moeilijker kan ik het niet maken…
Aloë vera in je huis
In een pot geplant kan de plant zo'n 30 cm hoog groeien (in de volle grond wel twee keer zo hoog). Smaken verschillen, maar ik vind de plant met haar blauwgroene, harde 'bladeren' een echte eyecatcher in je huis. Sommige katten willen wel 's aan planten sabbelen, maar door de stekelachtige uiteinden langs de lengte van de bladeren, bijt de plant gewoon terug en blijft ook je kat er vanaf 🙂
Aloë vera telen
Zorg voor de juiste grond: meng schoon zand met tuincompost, 1:1, en dan heb je de perfecte bodem om je vetplant te laten groeien als kool. Nieuwe scheuten laat je zo'n 10 centimeter groeien, om die daarna weg te snoeien, dan groeit de rest lekker door. Wat je weghaalt, kan je als stekje in een andere pot plaatsten, of in de tuin, om een nieuwe plant te telen.
Aloë vera onderhouden
Tussen twee opeenvolgende waterbeurten moet je de plant in de pot laten opdrogen. In de groeiperiode geef je wat vaker en wat meer water dan in de winter. In je tuin hoef je nog minder water te geven. Makkelijk toch?!
Aloë vera kopen
Biologische Aloë vera kopen
Ik zou de plant niet bij de IKEA kopen (wat blijkbaar kan), maar bij een zaak waarvan de passie er van af straalt. Dat kan je favoriete winkel zijn, maar denk ook aan natuurvoedingszaken als Odin en Ekoplaza. Je koopt daar een blad, waarvan je een van bovenstaande toepassingen kunt maken.
Als je een kant-en-klaar product met de vetplant erin koopt, let dan op het percentage. Hoe hoger, des te beter!
Succes, en ook veel plezier!
Meer:
Planten en bomen maken muziek op je telefoon
Lentekriebels, in je huis en in je lijf
De ultieme gids voor elke (aankomende) vegan
Niets missen van De Betere Wereld?
Like dan onze Facebook-pagina en blijf op de hoogte.
Of schrijf je in voor onze wekelijkse nieuwsbrief.