5% voor 5 december
Elk jaar is de goede Sint weer in ons land en brengt hij cadeautjes mee voor jong en oud. Zoals je weet doet hij dit niet alleen en kan hij jouw hulp goed gebruiken om de fijnste cadeautjes te vinden. Deze tijd van het jaar laat echter altijd weer zien hoe moeilijk het soms kan zijn om een geschikt cadeautje voor vrienden of familie te vinden.
Nu willen wij jou graag een handje helpen! Heb je een vriend of familielid die zich inzet voor het milieu? Die wel
weet hoe recycling in zijn werk gaat of daar juist een handje bij geholpen kan worden? Of ben jij milieuvriendelijk bezig en wil je dit graag delen met anderen? Dan ben je bij Thuisafvalscheiden.nl aan het juiste adres, want ook in de feestmaand is milieubewustzijn van groot belang. Vooral omdat je meer afval hebt door al dat inpakpapier, lekkere hapjes en verpakkingsmateriaal.
Thuisafvalscheiden.nl heeft een groot en divers aanbod van producten die het afval scheiden makkelijker en milieuvriendelijker kunnen maken. Je hoeft dus niet ver te zoeken om het geschikte cadeautje te vinden om het milieu een handje te helpen.
Maar liefst 5% korting
Toch is 5 december niet 5 december als wij zelf niet een cadeautje zouden weggeven! Om deze reden willen wij jou graag 5% korting geven voor 5 december. Gebruik hiervoor kortingscode: 5%SINT2017 op www.thuisafvalscheiden.nl.
Koop die leuke prullenbak of opbergbox voor die vriend of dat familielid. Restafval, karton, papier en plastic, alles kan in een geschikte bak. Is je budget beperkt? Dat maakt niet uit. Wij hebben ook cadeautjes onder de tien euro!
Help het milieu én maak die vriend of dat familielid blij met jouw cadeau. Draag die groene mantel met mijter en wees de groene Sint in plaats van de rode Sint!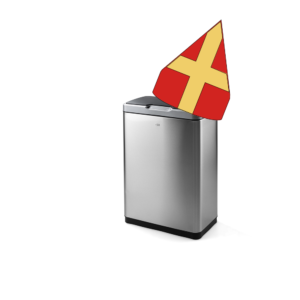 Meer lezen?
De koning van het afval scheiden
Niets missen van De Betere Wereld?
Like dan onze Facebook-pagina en blijf op de hoogte. Of schrijf je in voor onze wekelijkse nieuwsbrief.