Ik voel me net een spreekbuis van moeder natuur. Er is zoveel onwetendheid over hoe we indirect, ongemerkt en vooral onwetend de aarde vernietigen. Niemand wil toch moedwillig iets moois vernietigen? Daarom zorg ik voor meer informatie, zodat iedereen weet wat er gaande is en hoe makkelijk het is om het aan te pakken en op te lossen. En vergeet niet – ieder klein stapje dat je maakt is een grote stap voor de wereld.
Probeer niet alles in een keer in je dagelijks leven te veranderen, maar neem kleine stapjes en pak kleine stukjes aan. Overzichtelijk en plezierig!
Van de week kwam ik via via op een website en daar kon ik de documentaire 'Bag It' kijken. De film is zo inspirerend en ik werd er zo enthousiast over dat ik nog vol van alles wat ik gezien had in deze film de natuurvoedingswinkel instapte en me zo verbaasde over al het onnodige verpakkingsmateriaal en de enorme hoeveelheid plastic. Plastic dat is gemaakt van een grondstof dat er 70 miljoen jaar over heeft gedaan om te ontstaan, wat binnen een dag wordt weggegooid en wat nooit meer verloren gaat. Waarom maken we verpakkingsmateriaal van zo'n duurzaam materiaal? Het is gestoord..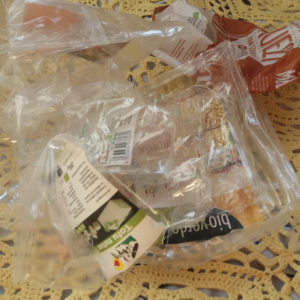 Wat je moet weten over plastic verpakkingsmateriaal:
Plastic wordt niet afgebroken, maar door zonlicht tot steeds kleinere stukjes gemaakt. Dit is de bekende 'plastic soep' op 5 plekken in de zee.
Er zit meer plastic in de zee dan voedsel. Het plastic is zo klein dat vissen het zien als voedsel, het opeten en daardoor vaak sterven.
Conserven blikken bevatten tegenwoordig ook een plastic laagje en zijn daardoor niet meer recyclebaar.
De hoeveelheid ruwe olie die nodig is voor het maken van een plastic fles vult de fles bijna voor de helft op.
Op plastic verpakkingsmateriaal staat een recycle logo en daaruit blijkt dat plastic voor maximaal 20% is te recyclen.
Er bestaat een code systeem om te ontdekken van welk materiaal het plastic is gemaakt en hoe goed het te recyclen is.
Iedere gemeente heeft eigen criteria voor het recyclen van plastic.
Plastic doppen zijn niet te recyclen.
Na het kijken van deze docu wil ik nooit meer plastic weggooien of laten recyclen. Recyclen blijkt niet zo goed te zijn als je denkt. Je voelt je goed, omdat je het in die oranje bak doet, maar dit blijkt helemaal niet zo goed te zijn…
Beste: verminder het aankopen van plastic verpakkingsmateriaal. 
Goed: hergebruik het plastic verpakkingsmateriaal.
Niet goed: recycle als het echt niet anders kan.
Wat kunnen we nog meer doen?
Koop geen water in plastic flessen. Drink gewoon uit de kraan of neem een duurzaam ecologisch waterzuiveringssysteem.
Kies producten met minder verpakkingsmateriaal.
Heb je iets nodig? Koop het tweedehands.
Neem je eigen tassen mee.
Koop minder. Heb je het echt nodig?
Ruim je eigen omgeving op. Stap over je trots en doe het gewoon.
Versimpel je leven.
Aangezien ik heb besloten om nooit meer plastic weg te gooien, heb ik nu dus mijn eigen plastic bergje. De grote vraag is: wat kan ik ermee doen? Mijn creativiteit begint dan te stromen. Als vulmateriaal, gebruiken in kunst of een stevige boodschappentas van maken met flosdraad aan elkaar genaaid.
Heb jij een creatief idee wat ik kan doen met het onvermijdbare plastic verpakkingsmateriaal?
Volg mijn reis op www.plantenliefde.nl naar een volledig plantaardig leven in 2020. Goed voor de aarde en mezelf.