Thailand is een geweldig land met veel te bieden voor alle soorten reizigers. Natuurliefhebbers kunnen genieten van haar prachtige stranden en landschappen; feestgangers kunnen nergens anders een beter nachtleven vinden dan in Bangkok; fijnproevers kunnen hun smaakpapillen verwennen met de heerlijke Thaise keuken; backpackers kunnen met een klein budget goed rondkomen door de betaalbare levensstijl van Thailand; en yogi's zijn gelukkig met de diepgewortelde spirituele cultuur in dit deel van de wereld.
Het is een fantastische bestemming voor yoga-beoefenaars. Er is een breed scala aan yogastudio's, yogaretraites en workshops gedurende het hele jaar, samen met massage-opleidingen, meditatieretraites, biologische permacultuur boerderijen, natuurlijke genezing en Ayurvedische aanbiedingen.
Geen wonder waarom, in de afgelopen jaren, Thailand gestaag is uitgegroeid tot een van de meest bezochte landen ter wereld. In feite, volgens de World Tourism Rankings door de VN is het momenteel het tweede Aziatische land met de meeste bezoekers per jaar (32,588,303 in 2016), net onder China; en het is gerangschikt als nummer 14 in de wereld boven sommige zeer toeristische landen zoals Oostenrijk, Griekenland of Canada!
Op BookYogaRetreats.com willen wij jou voorzien van alle hulpmiddelen die je nodig hebt als je van plan bent om op een onvergetelijke yoga-ervaring in Thailand te gaan. Dit is de reden waarom we een partnerschap zijn aangegaan met sommige bloggers die in Thailand hebben geleefd en net zo van yoga houden zoals wij, om sommige van hun best bewaarde geheimen in deze reisgids te delen zodat je het maximale uit je tijd kunt halen in het 'land van de glimlach'. De bloggers zijn Anne en Brandon van 'The Yoga Nomads'; Amélie van 'Mostly Amélie'; en Alana van 'Paper Planes', die hun advies hebben gegeven om te reizen in Thailand als een ware yogi!
Thaise tradities waar je van bewust moet zijn
Eerst en vooral, is het zeer belangrijk om op de hoogte te zijn van de tradities van de Thaise mensen voordat je aankomt. En hoewel er vele aspecten zijn die verschillen van de Westerse wereld, is er een ding dat je nooit mag vergeten: pas op voor je voeten! "Je voeten naar anderen wijzen, de voeten aanraken en je voeten stutten op een stoel of tafel worden als onbeleefd beschouwd in de Thaise cultuur" waarschuwen Anne en Brandon.
Maar waarom zijn voeten zo problematisch in Thailand? Om deze ideologie beter te begrijpen, legt Alana Morgan uit dat 'Thaise mensen geloven dat de voeten het laagste en vuilste deel van het lichaam zijn en het wordt als respectloos en offensief beschouwd om de bodem van je voet te tonen'. Dat is waarom het ook respectloos is om je wandelschoenen bungelend aan je rugzak te laten hangen, dus wees voorzichtig als je op een hike-avontuur gaat. Je moet ook rekening houden met de volgende tips om jezelf te mengen in de Thaise cultuur en ervoor te zorgen dat je niet iemand beledigt:
Ondanks het warme en zonnige weer het hele jaar door, kleden mensen in Thailand zich bescheiden en zijn ze meestal volledig bedekt. Dat de huid wordt getoond op het strand is normaal, en gebieden die veel toeristen zien, zijn gewend aan de manier waarop westerse toeristen zich kleden, het dragen van strakke yoga kleding in het openbaar is niet erg gepast.
Veel Thaise mensen begroeten elkaar door beide handen tegen elkaar te plaatsen en een lichte buiging te making. Tijdens de buiging worden de handen richting het hoofd gehouden. Het is een teken van respect.
In Thailand is het niet ongewoon om je schoenen uit te doen wanneer je een tempel of spirituele woning bezoekt. Het is belangrijk om dit te onthouden omdat je verschillende plaatsen zult bezoeken waarbij je je schoenen moet uitdoen.
Kleed jezelf altijd bescheiden bij een bezoek aan heilige plaatsen. Bedek je knieën en schouders. En wijs je voeten nooit richting de Boeddha als je zit!
Must do's voor yogi's in Thailand
De meeste bezoekers gaan direct naar de eilanden Koh Phangan, Koh Samui of Koh Tao. En ze zijn populair voor een goede reden. Het noorden van Koh Phangan Island is het persoonlijke paradijs van Amélie bijvoorbeeld "de meeste mensen kennen enkel de Full Moon party; het noordelijkste deel van het eiland is nog zeer onbekend voor veel mensen. Er zijn geweldige yogascholen, afgelegen stranden, veganistische restaurants, en magische ongerepte bossen rondom. Er is ook een boeddhistische tempel die een tiendaagse stille Vipassana meditatie retraite biedt hoog op een berg. Een echte must!" beschrijft ze.
Alana Morgan, aan de andere kant, is een blogger die voor de afgelopen vijf jaar in Chiang Mai heeft gewoond en volledig verliefd is geworden op Noord-Thailand hoewel het zelfs geen strand heeft. "Ik kan nooit genoeg krijgen van de door jungle bedekte bergen en rijstvelden net buiten de stad. Het groen en de gastvrije sfeer compenseren voor het ontbreken van een strand en er is een hoop te doen – je kunt de geweldige koffie scene van de stad ontdekken (koffie groeit in de bergen), een bezoek aan de Olifant heiligdommen brengen, en jezelf verwennen met enkele van het lekkerste en goedkoopste voedsel in het land. "
De Yoga Nomads zijn eens met Alana, en ze denken dat Chiang Mai en Pai de twee plaatsen zijn voor yogi's om te bezoeken. "Deze twee noordelijke steden zijn bevorderlijk voor de yoga-levensstijl met een verscheidenheid aan plaatsen waar je gezond eten kunt vinden en genoeg plekken om yoga te beoefenen. Als stranden meer je ding zijn, Koh Lanta is nog niet zo overspoeld door toerisme zoals de andere eilanden en heeft nog steeds prachtige uitzichten en wildlife" zegt men.
Beste plaats om te mediteren of yoga te beoefenen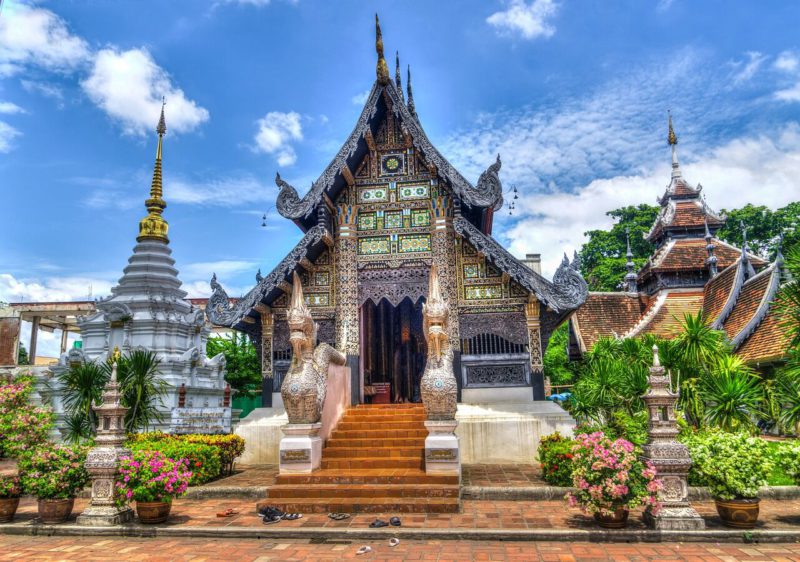 Er zijn zoveel mooie plekjes in heel het land die een echte nadruk leggen om in het hier en nu te leven, wat het moeilijk maakt om niet geïnspireerd te voelen om yoga in Thailand te beoefenen. Onze insiders hebben echter hun favoriete plaatsen gedeeld om te ontspannen, rust te vinden en mindful te zijn:
Yoga Nomads – Mar Ngat Dam and Reservoir.
Amélie – Koh Phangan.
Alana Morgan – voor meditatie, alle Thaise boeddhistische tempels in het hele land verspreid. Voor yoga, een studio in Chiang Mai, dat in een traditioneel Thais houten huis gelegen is, omgeven door een tropische tuin.
Meer avontuurlijke activiteiten voor yogi 's
Als je op zoek bent om wat adrenaline aan je bezoek toe te voegen als aanvulling op je yogapraktijk, zijn er enkele activiteiten die zeker je verblijf in Thailand zullen verrijken. De Yoga Nomads raden aan om snorkelen, duiken en rotsklimmen te proberen "Thailand staat bekend om haar turquoise stranden en prachtige kalksteenkliffen, wat ideale plekken zijn om deze activiteiten te doen. Yoga complimenteert elk van deze op een unieke manier, maar een veel voorkomende manier is met behulp van je ademhaling. Het creëren van bewustzijn in je lichaam en geest rond je ademhaling kan je prestaties beïnvloeden."
En als je echt een avontuurlijke ziel hebt en iets heel unieks wilt proberen, denkt Amélie echt dat je freediving moet proberen. "Freediving is afhankelijk van je vermogen om je geest te kalmeren, diep adem te halen en je adem proberen in te houden tot dat je terug boven komt. Het is zo'n een kalmerende en rustgevende ervaring en pranayama oefeningen zullen echt van pas komen. Echt de beste partner voor yoga." Legt ze uit.
Tips voor reizigers op budget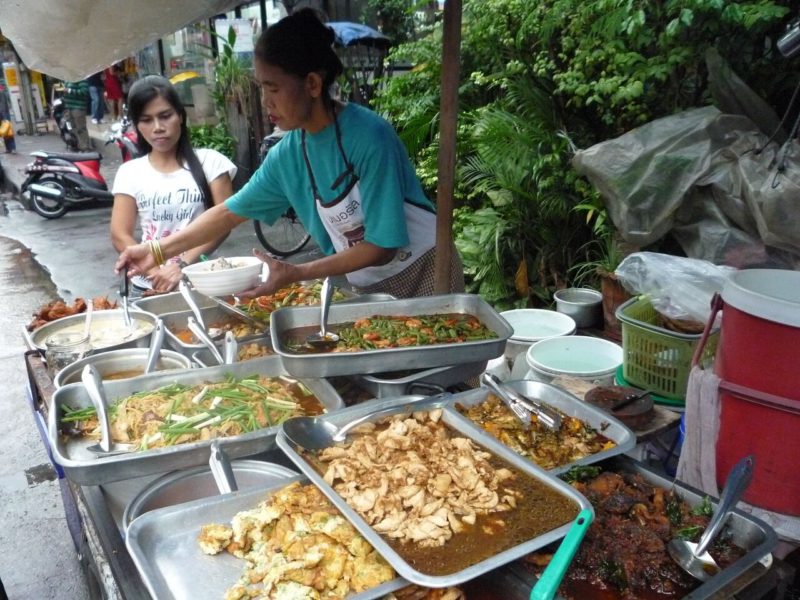 Het advies van een insider is zeer nuttig om een betere begrip van de cultuur te hebben, niet zo populaire plaatsen te bezoeken, en natuurlijk, om niet teveel geld uit te geven in de toeristische plaatsen of restaurants die normaal niet een bezoek waard zijn. Hoewel de manier van leven in Thailand al zeer betaalbaar is in vergelijking met de meeste westerse steden is, kan het nooit kwaad om enkele tips te hebben om langer met je geld te kunnen doen.
Kies voor Thais eten. En maak je geen zorgen over het eten op straat, vaak kan het zelfs beter zijn dan in restaurants omdat het meestal wordt gemaakt op bestelling (betekenis, verser) en altijd zeer goedkoop! "Wij raden je aan om de straatkraampjes te vinden die heel druk zijn en veel lokale klanten hebben," zeggen de Yoga Nomads.
Koop op de lokale boerenmarkt. Je kunt zeer goedkope groenten en fruit kopen voor hapjes onderweg.
Gebruik lokaal vervoer. Het is altijd goedkoper dan vluchten, taxi's of privé-auto's. Op scooters rijden is zeer gewoon en je zult waarschijnlijk zelf op eentje rijden of achterop zitten.
Vind een kamergenoot. Of het nu je reispartner of een nieuwe vriend is, een privé kamer voor twee (of slaapzaal als dit je stijl is) is ook een goede manier om te besparen op accommodatie terwijl je reist.
Helaas, yogalessen in de studio's in Thailand zijn niet veel goedkoper in vergelijking met andere bestemmingen, maar ze zijn de moeite waard voor het beoefenen in enkele prachtige, tropische ruimtes. En je hebt ook altijd de mogelijkheid om een betaalbare yogaretraite in Thailand te proberen.