In topvorm met sportdiëtist Saraï Pannekoek
Of je nou net begint met hardlopen of al een Olympische Spelen hebt meegemaakt, als voedselwetenschap door een kennisexpert wordt vertaald naar het bord, heeft iedereen er wat aan. Ik ging aan tafel met Saraï Pannekoek, sportdiëtist en klinisch epidemioloog.
Wat wil je vertellen over jezelf?
Ik ben Saraï Pannekoek ('86), geboren in Vlissingen, getogen in Oss en momenteel woonachtig in Amsterdam. In het dagelijks leven werk ik met topsporters, kook en eet ik plantaardig en doe ik aan Braziliaans jiu-jitsu. Ik schrijf graag goed onderbouwde blogs over voeding en in 2017 kwam mijn boek 'Eet als een atleet' uit. Daarnaast houd ik van de natuur en is duurzaamheid een rode draad in mijn leven. Ik vind het belangrijk mensen met wie ik werk bewust te maken van de keuzes die we dagelijks kunnen maken met onze portemonnee en bestek voor een betere wereld.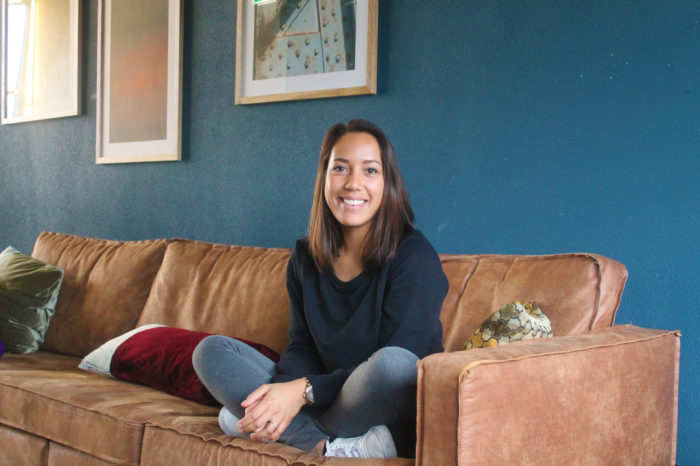 Vega(n) is een belangrijke ontwikkeling momenteel. Hoe kijk je hier tegen aan, voor wat betreft de relatie tussen sport en voeding?
Persoonlijk vind ik het een fantastische ontwikkeling, voornamelijk omdat ik zie dat mensen bewuster worden in het consumeren. Ook in de sport zie ik steeds meer vegetarische en veganistische sporters. Men wordt kritischer en wil weten waar het eten vandaan komt en hoe het is behandeld. Vroeger werd gedacht dat je als (top)sporter veel dierlijke producten moest nuttigen om aan voldoende voedingsstoffen te komen, zoals eiwitten, ijzer en calcium. Gelukkig weten we nu dat dat niet hoeft, met plantaardige voeding op de goede manier toegepast, kun je als sporter ook aan je behoeften voldoen.
Als je regelmatig sport, wat eet je dan voor en na trainingen? Wat voor voeding is er nodig tijdens hersteldagen?|
Er zijn verschillende 'spelregels' in sportvoeding als het gaat om timing en herstel. Met de juiste timing zorg je er namelijk voor dat je over voldoende energie beschikt tijdens een training, de kans op (maagdarm)klachten vermindert en je het herstel juist weer bevordert. Het is verstandig je laatste maaltijd zo'n 2-3 uur voorafgaand aan de training te nuttigen, zodat je lichaam voldoende tijd heeft om een zo groot mogelijk gedeelte ervan te verteren. Dit verkleint de kans op maag-darmklachten tijdens je training. Afhankelijk van je training kun je 30-45 minuten van te voren nog een kleine koolhydraatrijke snack nemen, zoals een banaantje of een mueslireep. Na een duur-inspanning wil je je brandstofvoorraden weer aanvullen, je spieren laten herstellen en je vochtbalans weer op peil brengen. Dit betekent dus herstelvoeding met koolhydraten, eiwitten en vocht, zoals enkele sneetjes volkorenbrood met hummus, ei en een glas water.
Moet voeding worden aangepast als het om duur-, cardio- of krachttraining gaat?
Iemand zei ooit: "Wat en hoe veel je eet, hangt af van wat je hebt gedaan en wat je gaat doen." Als je een duurtraining hebt, zul je relatief meer glycogeen verbranden dan bij een krachttraining. Dit betekent dat je meer koolhydraten voorafgaand aan je training nodig hebt, want glycogeen is de voorraad koolhydraten in je lever en spieren. Na een krachttraining hebben je spieren meer spierschade opgelopen, waardoor eiwitten weer een belangrijkere rol in het herstel spelen.
Vertel 's over plantaardige en dierlijke proteïne (eiwitten) in relatie tot opname en training?
Eiwitten zijn de bouwstenen van je lichaam. Ze bestaan uit aminozuren en deze heb je nodig voor de opbouw van cellen, structuren, organen en spieren. In totaal zijn er 22 aminozuren, waarvan er 9 essentieel zijn. Dit betekent dat je lichaam deze niet zelf kan aanmaken en dus in je voeding aanwezig moeten zijn. Wanneer je dierlijke eiwitten nuttigt, zoals vlees, zuivel en ei, krijg je deze essentiële aminozuren met gemak binnen. Bij plantaardige voeding is dat iets minder en zul je dus creatiever moeten omgaan met je productkeuzes, zodat je dagelijks alle essentiele aminozuren binnen krijgt. Peulvruchten, volkoren graan en (ongezouten) noten zijn daarom erg belangrijk in de voeding van een vega sporter, want samen leveren deze productgroepen alle aminozuren die het lichaam nodig heeft.
Hoe kijk je überhaupt tegen voedingssupplementen aan?
Wanneer supplementen op een verantwoorde manier worden ingezet, vind ik dit een goede zaak. Bijvoorbeeld bij een tekort aan een bepaalde vitamine of mineraal, op basis van labwaarden. Dan is het altijd goed dit bij te slikken (op advies van je dokter of diëtist). In de sportvoeding behandelen we prestatieverbeterende supplementen als het topje van de voeding: je hebt er pas écht iets aan als je basisvoeding en timing op orde zijn. Voorbeelden hiervan zijn creatine- en cafeïnesupplementen.
We lazen eens: voor een goede gezondheid en een goed lijf is behalve aangeboren aanleg, voeding voor 80% verantwoordelijk en beweging slechts 20%. Wat vind je hiervan? En in hoeverre speelt de menselijke geest in rol in deze?
Daar ben ik het niet mee eens, omdat zowel beweging en de menselijke geest hiermee tekort wordt gedaan. Beweging is sowieso heel belang-rijk om vitaal ouder te worden. En dan heb ik het niet over alleen sporten, maar écht je lichaam in beweging zetten gedurende de dag. Ik doe bij-voorbeeld dagelijks 'movement snacks' om mijn lichaam met bepaalde handelingen en bewegingen uit te dagen. Je geest gezond houden is ook een belangrijke, waarbij dankbaarheid en meditatie een belangrijke rol spelen. Zo sluit ik mijn dag af met drie dingen waar ik die dag heel dankbaar voor ben en mediteer ik dagelijks.
Welke beginnersfouten zie je om je heen, bijvoorbeeld bij mensen die in Januari opeens vanuit het niets heel fanatiek gaan trainen?
Vaak stellen mensen irreële doelen zo aan het begin van het jaar. Zonde, want deze zijn gedoemd te mislukken. Ze gaan dan ineens 5x per week sporten en raken snel geblesseerd, waardoor ze weer in hun oude gedrag terugschieten. Een gezond lichaam is geen quick fix. Gedragsverande-ring zorgt er voor dat je er ook op lange termijn van kunt genieten.
Hoe kijk jij naar de berg boeken en blogs over voeding en/in relatie tot sport en fit worden die elke dag lijkt toe te nemen?
Ik probeer er niet snel over te oordelen. Ik vind het vooral balen voor de consument, omdat er écht heel veel onzin wordt verkocht. Ik schrijf al jaren voor I'm a Foodie, een blogplatform waar we de zin en onzin van voeding scheiden door middel van goed onderbouwde blogs.
Wat kan je vertellen over je populaire boek 'Eet als een atleet'? Heb je een favoriet deel?
Ik ben heel trots op ons boek, vooral omdat we de wetenschap vertalen naar het bord van een sporter. Of je nou net begint met hardlopen of al een Olympische Spelen hebt meegemaakt, iedereen heeft er wat aan. Duurzaamheid loopt er als een rode draad door heen. Zo hebben we géén rood vlees en tonijn gebruikt in de recepten én heb ik heel veel vega(n) sportrecepten ontwikkeld, zoals mijn favoriete snelle couscoussalade.
En, wat doe je zelf voor een betere wereld?
Ik eet plantaardig en lokaal, drink bewust geen koffie meer, rijd elektrisch én ik probeer de mensen waarmee ik werk bewust te maken van meer plantaardige voeding. Zo eten de topsporters in Amsterdam op maandag geen vlees (Meatless Monday) maar wel een volwaardige sportmaaltijd met plantaardige producten.
Wat is jouw guilty pleasure?
Pannenkoeken. Heerlijk vind ik het om op zondag een stapel te bakken en deze samen met mijn verloofde te eten.
Wat kunnen we nog van je verwachten in de toekomst? Een nieuw boek wellicht?
Sowieso een nieuw project, genaamd The Sustainable Athlete, waarmee we de sport gaan verduurzamen. En inderdaad, een nieuw boek behoort ook zeker nog tot de mogelijkheden.
Heb je nog iets toe te voegen?
Ik wil jullie enorm bedanken voor de leuke vragen en ik hoop jullie hiermee geïnspireerd te hebben!
www.saraipannekoek.com
Instagram: sarai_pannekoek
Twitter: @SaraiPannekoek
Facebook: Sarai Pannekoek