Transparantie is een groot goed. We kennen inmiddels allemaal de Eerlijke Bankwijzer wel. Minder bekend is de Eerlijke Verzekeringswijzer, dat al in 2013 startte als initiatief van Amnesty International, Dierenbescherming, FNV, IKV Pax Christi, Milieudefensie en Oxfam Novib. Hoe scoort jouw verzekeraar op belangrijke thema's als mensenrechten, gezondheid en dierenwelzijn?
Door: Erwin Polderman
De Eerlijke Verzekeringswijzer wil het beleggingsbeleid van verzekeraars vergroenen en zorgen voor verbetering van de praktijk – dat het dus ook daadwerkelijk gebeurt. Op 21 thema's onderzoekt de wijzer hoe transparant de verzekeraars zijn, en hoe dat in de praktijk voor de verzekerden uitpakt.
Op de site van de wijzer zie je de scores op het beleid van de 10 grote verzekeringsgroepen in Nederland. Helaas valt er nog veel te doen bij de meerderheid, met name als je kijkt naar scores op thema – en dat voor iets wat als vanzelfsprekend en respectvol moet worden beschouwd. Gelukkig zijn er best wat lichtpuntjes.
Nieuwe onderzoeken
In juli 2016 heeft de Eerlijke Verzekeringswijzer een nieuw onderzoek uitgevoerd over transparantie bij verzekeraars. a.s.r. wordt als een van de positieve uitzonderingen genoemd in de Nederlandse verzekeringssector. Op dit moment is verzekeraar a.s.r. de enige waar ook niet-klanten van de verzekeraar hun beklag kunnen doen via de klachtenprocedure. Een half jaar eerder, in het onderzoek van november 2015 staat a.s.r. van de 10 grootste levensverzekeraars in Nederland wat Maatschappelijk Verantwoord Beleggen-beleid op de eerste plaats. Het a.s.r.-beleid over wapens, gezondheid en mensenrechten scoorde zelfs een 10.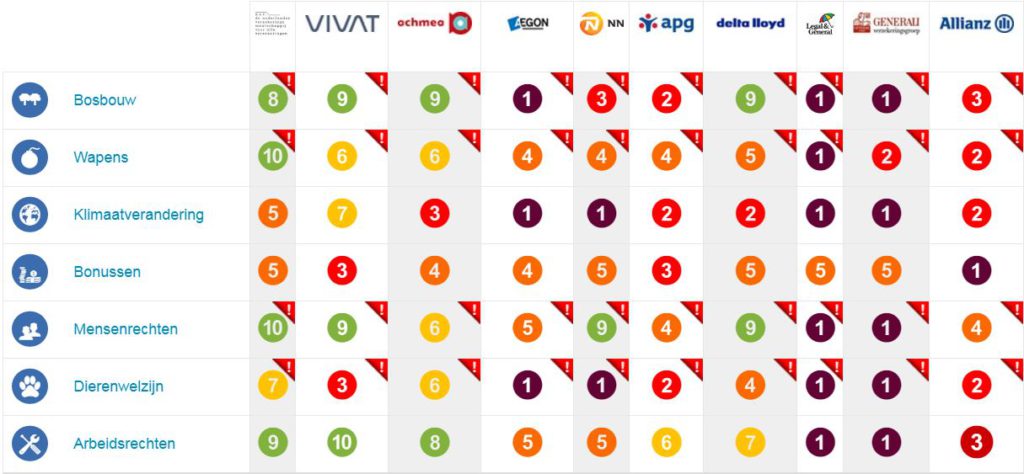 Als we kijken naar de praktijk, dan zijn op dit moment vooral ontbossing en landroof in het nieuws. Met name palmolie, dat in zo'n beetje de helft van de reguliere producten die je thuis gebruikt -zoals shampoo en voedsel- zit, is een boosdoener. Recent onderzoek toont dat veel verzekeraars beleggen in deze zeer winstgevende sector – maar de Aarde en ook veel mensen betalen hiervoor de prijs – zelfs moderne slavernij is de dagelijkse praktijk. Volgens de wijzer worden al deze palmolieproducenten nauwelijks beoordeeld door verzekeraars, laat staan tot verantwoording geroepen. Zeven grote verzekeraars doen echt veel te weinig moeite om ontbossing en landroof te stoppen. Sterker, zes van de negen onderzochte verzekeraars waren "niet of nauwelijks bereid om inzicht te geven in wat ze doen om  de controversiële palmoliebedrijven tot gedragsverandering te bewegen", meldt de website. Achmea en NN Group waren op dit thema wat opener, terwijl Vivat het meest transparant is over de activiteiten die ze hiertoe onderneemt.
Waar moet een verzekeraar volgens jou extra aandacht aan besteden?
Het is dus zaak dat jij de voor jou goede keuze maakt – de Eerlijke Verzekeringswijzer helpt je hierbij. Vind je mensenrechten, dierenwelzijn of klimaat belangrijk? Of andere onderwerpen? Op de site selecteer je de verzekeraar van je keuze en bekijk je de scores op alle 21 thema's.
Erg handig is ook de optie om twee verzekeraars met elkaar te vergelijken. Uiteindelijk ontdek je welke het beste bij jou past.
Tip: En valt je huidige verzekeraar je tegen, dan kan je via de site heel gemakkelijk jouw verzekeraar rechtstreeks aanspreken op hun scores.
www.eerlijkegeldwijzer.nl/verzekeringswijzer
Meer lezen:
> Interview met a.s.r. verzekeringen over duurzaam investeren
> Cabaretière Anouk Kragtwijk grapt over klimaatverandering
> Interview met Vrijopnaam: zelf zonne-energie opwekken zonder dak
Niets missen van De Betere Wereld?
Like dan onze Facebook-pagina en blijf op de hoogte. Of schrijf je in voor onze wekelijkse nieuwsbrief.