Deel 3 uit de serie 'Eerst voeding dan medicijnen'
Waarom zijn voedingssupplementen belangrijk voor je gezondheid? Op die vraag geef ik uitgebreid antwoord in mijn boek "Gezond met Voedingssupplementen". Juist nu de "r" in de maand zit, kunnen we niet om voedingssupplementen heen… 
Voedingssupplementen vormen, samen met mediterrane voeding of het oerdieet, het antwoord op de vele gezondheidsproblemen van tegenwoordig. Mijn slogan luidt daarom: "Eerst voeding en voedingssupplementen, dan medicijnen om ziekten te voorkomen en gezond oud te worden". Vitamines, mineralen zoals magnesium, omega 3-visvetzuren en antioxidanten zoals selenium horen in het lichaam thuis. Maar al te vaak worden tekorten aan deze voedingsstoffen onterecht met medicijnen behandeld.
Lees ook: "Vitamine D, schromelijk onderschat"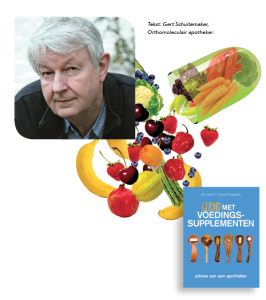 Goede voeding in combinatie met suppletie geeft de weerstand een duwtje in de rug als de "r" weer in de maand zit. Maar je ondervindt er nog véél meer voordelen van. In mijn boek noem ik als voorbeeld de kleine dagelijkse of periodiek terugkerende ongemakken. Vaak is moeilijk vast te stellen wat nu precies de oorzaak is. "Kleine ongemakken" kunnen voor ieder verschillend zijn: broze nagels of dof haar, menstruatieklachten, snel verkouden, dikwijls last van hoofdpijn, geen energie meer hebben na het avondeten of juist moeilijk uit bed kunnen komen, onderhevig zijn aan stemmingswisselingen of af en toe een dipje. En moeheid in het algemeen kan hieronder vallen, een probleem waar veel Nederlanders mee kampen.
Voedingssupplementen kunnen hier uitkomst bieden, omdat deze ongemakken het gevolg kunnen zijn van al of niet kleine (marginale) voedingstekorten. Goede voeding samen met de basissuppletie, ofwel stap 1 en stap 2 van mijn "Step-up Schema" (totaal slechts drie stappen), geven dikwijls verlichting. Dit geeft je de grootste kans je stofwisseling te voorzien van alle essentiële voedingsstoffen. Zodat die weer optimaal kan functioneren en je klachten na verloop van tijd als sneeuw voor de zon verdwijnen.
Dit is mijn algemene advies, als aanvulling op een gezonde voeding:
• Neem elke dag bij een maaltijd – bij voorkeur bij het ontbijt – een hooggedoseerd multivoedingssupplement.
• Extra vitamine C: minstens twee tot drie keer 1000 mg, het liefst verdeeld over de dag.
• Extra vitamine D, zeker in de winter: 2000 IE ofwel 50 mcg per dag.
• Extra visolie wanneer je weinig vette vis eet: een capsule met 500 tot 1000 mg visolie, die 300 tot 600 mg omega 3-vetzuren (EPA en DHA) bevat.
Dit advies geldt voor gezonde personen, ter algehele ondersteuning. Overigens, de derde stap van het "Step-up Schema" is de aanbeveling om advies in te winnen bij een orthomoleculair deskundige in geval van bijzondere omstandigheden zoals overmatige stress, zwangerschap, topsport of ziekte.
www.gezondmetvoedingssupplementen.nl
Meer van/over Dr. Gert Schuitemaker:
"Hoezo, voedingsmythes?"
"Vitamine D, schromelijk onderschat"
Interview met Dr. Gert Schuitemaker