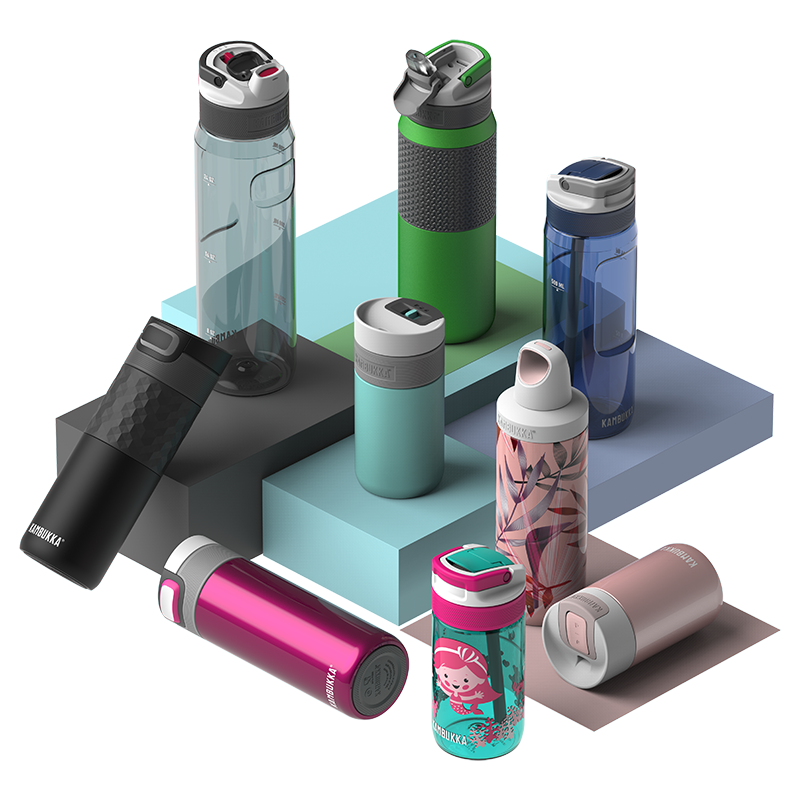 Als ik de berichten over de plastic soep voorbij zie komen dan schrik ik elke keer weer. Zoveel plastic vervuiling terwijl wij daar echt wel iets aan kunnen doen. In het buitenland is dat wel iets lastiger, omdat je daar niet zulk schoon en lekker drinkwater hebt als in Nederland dus je moet wel aan de plastic flessen. Terwijl in bijvoorbeeld Duitsland al statiegeld wordt gevraagd voor de halve literflessen gebeurt dat in Nederland helaas nog niet dus om het plastic terug te dringen kunnen wij er hier wat aan doen door zelf onze flessen mee te nemen.
Kleurrijke dorstlesser
Kambukka heeft een ontzettend leuk assortiment aan waterflessen en koffie/theebekers. Ik heb o.a. de waterfles Elton. https://www.kambukka.com/be_nl/shop/elton-500-ml?id=114 in de kleur watermelon mogen testen. De waterflessen zijn allemaal kleurrijke dorstlessers met ontzettend leuke namen zoals Caribbean, Pearl Blush en Living Coral. De naam van de fles verraadt al een beetje wat de kleur is. Het handige 3-in-1 lid zorgt ervoor dat je de fles makkelijk op slot kunt zetten, met een drukpositie kunt drinken en de fles open kunt zetten. Er zit een beschermkapje voor het mondtuitje zodat er geen vuil op kan komen als je de waterfles niet gebruikt. Ook zit er een handig hengsel aan zodat je de fles makkelijk kunt optillen maar de inkeping in de fles zelf zorgt ook voor een lekkere grip. De gehele fles mag in de vaatwasser en het mondstuk is makkelijk demonteerbaar met één klik. En geen ge-lek meer in je tas, want de waterfles is lekvrij. Voor de kleine drinkers zijn er flessen van 500 ml, maar de waterflessen zijn er ook voor grotere drinkers in de formaten 750 en 1000 ml. Al te koop vanaf € 18,90.
Geen koude koffie meer
De thermobekers van Kambukka zien er ontzettend gaaf uit in zijn metallic kleuren; Swirly Blue, Ravenous Red en Stainless Steel. De belofte is dat ze de drankjes tot 10 uur lang warm houden in een fles van 500 ml en zelfs 20 uur lang koud. Dat heb ik natuurlijk uitgeprobeerd met de Olympus Swirly Blue https://www.kambukka.com/nl/shop/olympus-500-ml?id=89) en of ze je drankje warm of goed koud houden. Mijn thee blijft bloedheet en mijn ijskoude water heerlijk koud. De ideale beker dus voor onderweg. Met het handige kliksysteem zet je de fles makkelijk open en dicht. Deze fles is ook lekvrij en met zijn antislipbodem valt hij niet snel om als je bijvoorbeeld in een hobbelige trein zit. Ook hiervan kan het mondstuk gedemonteerd worden en mag deze in de vaatwasser. De thermobekers zijn in de formaten 300 ml en 500 ml en te koop vanaf € 22,90.
Het leuke van de flessen van Kambukka is dat je de deksels op alle varianten kunt plaatsen dus wil je een keer een andere combi qua kleur dan kan dat.
Wil je ook zo'n leuke waterfles hebben, doe dan mee met de winactie en laat weten waarom jij deze waterfles moét hebben.
Door: Tessa Droge