Shoppen & Geven voor een betere wereld
FairFriends zijn mensen met passie, die jou graag vertellen over het verhaal achter hun product of project. Deze keer spraken wij met Iliana Peralta van Wiraccocha, deelnemer van FairFriends.nl. Haar bedrijf levert specifieke quinoa, dat alleen in de hooglanden van Bolivia groeit.
FairFriends.nl won eerder de Wereldprijs in de categorie Eerlijke Handel van de ASN Bank. Uitsluitend eerlijke producten met een goed verhaal, direct gekocht van de producent. En doneren aan indrukwekkende kleinschalige projecten van ANBI-erkende goede doelen. Bij ieder product of project vind je daarom uitgebreide informatie. Zo weet je wat je koopt en waaraan je doneert en hoe je bijdraagt aan een duurzaam eerlijke en gelukkige wereld. Samen shoppen én geven voor een betere wereld! www.fairfriends.nl
Wat is uw visie met betrekking tot een betere wereld?
Mijn bedrijf handelt in quinoa (uitgesproken als keenwah) uit de hooglanden van Peru en Bolivia. In de geval van Bolivia de Quinoa Real (soort quinoa die alleen in de hooglanden van Bolivia groeit).  De boeren verdienen gewaardeerd te worden voor het werk dat ze doen.
Is uw bedrijf/de webshop een exponent van de huidige tijdsgeest / transitie naar een betere wereld, of wat deed u besluiten te starten als ondernemer in faire producten?
Ik wil graag dat de Nederlandse markt bekend raakt met het gezonde product quinoa en tevens dat men geïnformeerd wordt over het productie proces en de rol van de boeren hierbij.
Bezoekt u uw leveranciers in de betreffende landen persoonlijk? Zoja, wat kunt u over het bedrijf/de producten /de ambachtslieden vertellen?
Ik bezoek de leveranciers van quinoa  persoonlijk in Peru en Bolivia (ik kom zelf oorspronkelijk uit Peru). Er zijn verenigingen van boeren om op deze manier een goede prijs te bedingen enorm hun tradities te bewaken. Zij verbouwen de quinoa op een hoogte van tussen de 3700 en 4000m. Dit werk is zeer bewerkelijk vanwege het klimaat – veel verschil tussen warm en koud en veel wind en de stuk grond dat bewerkt wordt is ongelijk, droog en hard.


Kijken we naar de sociale impact hiervan, wat kunt u vertellen over de gevolgen van uw samenwerking voor de desbetreffende toeleverancier?
De productie van quinoa zorgt voor een beter inkomen voor de boeren waardoor hun leef omstandigheden verbeteren, Bovendien, de positie van de boeren stijgt in aanzien.
Hoe screent u de mogelijke leveranciers/producten op?
De constante kwaliteit kan gegarandeerd worden door de bodem waarop de quinoa wordt verbouwd rijk is aan zouten en mineralen en ook door dat de boeren op een stuk land het ene jaar quinoa verbouwen, het volgende jaar aardappelen en het derde jaar laten ze het land rusten, zo dat de bodem zich kan herstellen.
Doordat ik regelmatig persoonlijk contact heb met de leveranciers heb, de taal spreek en dezelfde culturele achtergrond heb, vertrouw ik op een goede relatie met hun en daardoor ook aan op een betrouwbare levering van de quinoa.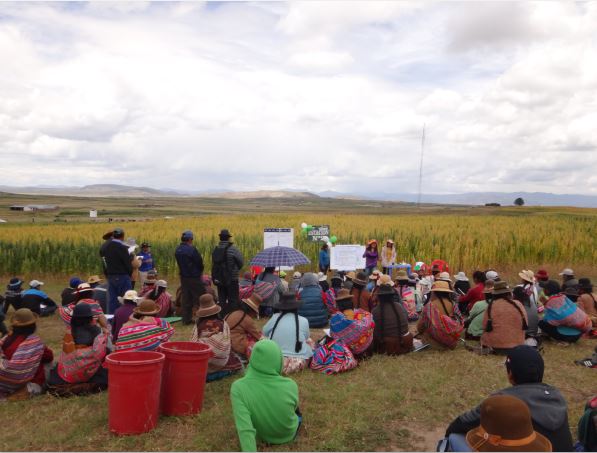 Wat kunnen we van uw webshop/bedrijf in de, al dan niet nabije, toekomst verwachten?
Ik hoop in de toekomst het assortiment te kunnen uit breiden met quinoameel, vlokken en pops (gepofte quinoa – Red).
U heeft onlangs besloten deel te nemen aan het FairFriends-concept. Wat was voor u hiervoor de reden?
De voornaamste reden is dat het FairFriends-concept mijn bedrijf helpt om projecten te steunen die werkelijk gerealiseerd gaan worden.
Lees ook:
>  FairFriends: prachtige Nepalese artikelen, van Straid
>  FairFriends: publicaties die er toe doen, van PixelPerfect