Vego Good Food is een chocolademaker met als missie veganistische producten van de hoogste kwaliteit te maken.
Begonnen met de Chocolate en Whole Hazelnut Bar, Vego's kenmerkende king-size chocolade-hazelnoot reep van liefst 150g, die al snel werd gevolgd door de VEGO mini 65g.
Inmiddels is er een range van 5 heerlijke producten gebaseerd op de beste cacao en hazelnoten, allen Vegan, Biologisch en Fairtrade en vrij van soja, palmolie of gluten.
De Vego bar 150, de kingsize Chocolate & Whole Hazelnut Bar
De Vego mini, het kleine broertje van 65g, maar net zo lekker
De Vegolino-pralines, het beste cadeau of heerlijkste traktatie op kantoor
De crunchy Choco Hazelnootpasta, in een handig herbruikbaar glas
En de nieuwste, Vego White Almond Bliss. Puur plezier in de vorm van vegan witte chocola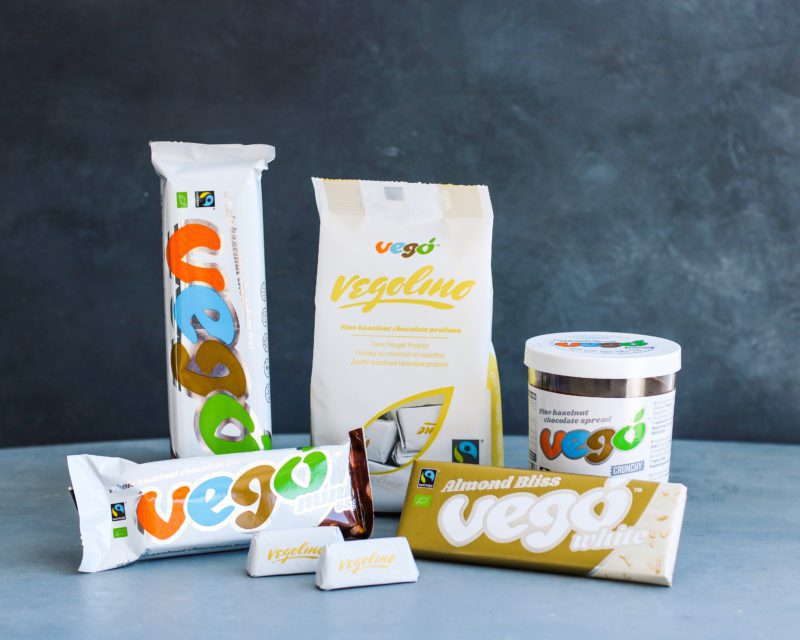 Vego Good Food is een in Berlijn gevestigd veganistisch bedrijf.
Ze brengen met het grootste enthousiasme geweldige veganistische producten de wereld in. Voor zowel veganisten als niet-veganisten, om intens van te genieten.
"We willen gewoon veganisme promoten op de best mogelijke manier: door simpele maar geweldig lekkere producten te maken waar iedereen van kan houden"
Mail & Win
Nieuwsgierig geworden? We mogen 3 gelukkige winnaars blij maken met de hele range Vego producten. Vul hieronder je gegevens in en je loot vanzelf mee!
Namens Vego veel geluk!
Update: Deze Mail & Win-actie is inmiddels afgesloten. Iedereen hartelijk dank voor het meedoen, en de winnaars van harte gefeliciteerd! In onze Mail & Win-rubriek vind je nog vele andere acties, en ook hebben wij wekelijks speciale Facebook-acties. Veel geluk! En wil je echt niets missen van De Betere Wereld, abonneer je dan op onze nieuwsbrief!