Cichoreiwortelvezel is echt een superingrediënt: lijkt een beetje op suiker maar zo veel gezonder! Het is namelijk een prebiotische vezel, die voedt dus je goede darmbacteriën. En omdat het zo op suiker lijkt, kan je er zelfs suiker mee vervangen in je recepten. Super toch!? Je kunt het gewoon in je koffie doen om zo je dagelijkse vezelinname wat op te vijzelen. Maar je kan er ook heel lekkere receptjes mee maken. Hieronder onze vijf toppertjes!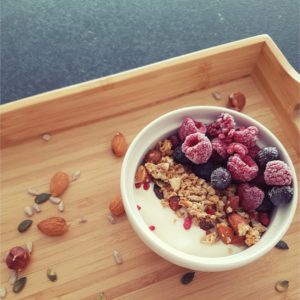 1. Granola
Wat is er beter dan homemade granola? Niets toch! En met havermout en noten ook heel gezond en vol vezel. Maar ga er dan niet hele lepels honing of agavestroop aan toevoegen, dat is evengoed suiker net als kristalsuiker of glucose-fructosestroop. Je kan beter een lepel honing of agavestroop vervangen door een lepel cichoreiwortelvezel en wat water.
   2. Smoothie
Snak je ook zo naar de zomer? Tijd voor een smoothie! Bijvoorbeeld een tropische ananassmoothie. Een halve ananas, 2 bananen, 100g mango, 200ml sojamelk en wat cashewnoten. Voeg daar nog twee porties cichoreiwortelvezel aan toe en je hebt een superlekkere zomerse smoothie met een goede portie vezel binnen! Of een avocadosmoothie met gember? Het kan allemaal!
3. Pannenkoeken
Ook pannenkoeken zijn reuze makkelijk te maken met cichoreiwortelvezel. Voeg je normaal wat suiker toe aan je pannenkoekenbeslag? Vervang dat simpelweg door cichoreivezel en je pannenkoeken zijn ineens een stuk gezonder. Opnieuw een leuke manier om je kindjes stiekem een beetje gezonder te laten eten! Deze boekweitpannenkoeken zijn echt overheerlijk!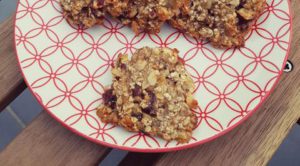 4. Havermoutkoekjes
Lekker, gezond en eenvoudig. Beter kan toch niet? Als je deze banaan-havermoutkoekjes eens gemaakt hebt, kan je niet meer zonder. Het ideale tussendoortje met enkel banaan, havermout, noten, bessen en een goede portie cichoreiwortelvezel.
5. En zelfs donuts!
Heb jij thuis een donuttoestel staan dat je nooit gebruikt omdat het toch echt niet zo gezond is? Probeer dan zeker eens deze vegan donuts met extra vezel! Je kinderen zijn er vast dol op en weten niet eens dat ze een gezond tussendoortje aan het eten zijn. Verklap dat vooral niet…
Ook zin om aan de slag te gaan met cichoreiwortelvezel? Neem dan zeker eens een kijkje op superroots.be, de experts op het vlak van cichoreiwortelvezel!