Op zoek naar een bijzonder cadeau?
Geef een feestelijke cadeauboom voor kerst.
Verras u vriend, vriendin of familielid met een uniek geschenk: een boom als teken van vriendschap. Een boom cadeau voor kerst. Of een boom als bijzonder aandenken of ter ere van een geboorte, trouwpartij of jubileum. Voor elke gelegenheid is er een goede reden om een boom cadeau te geven. Daarom biedt Natuurmonumenten Boomcadeau aan in vier varianten. Allen in bijzondere geschenkverpakking met felicitatiekaart en persoonlijk certificaat van aanplanting in fotolijstje.
Boomcadeau is tegelijkertijd een cadeau aan de natuur. De bomen worden geplant in nieuwe natuurgebieden van Natuurmonumenten. Zo helpt u de natuur in Nederland. En een boom geeft tijdens zijn langdurige leven veel terug. Zuurstof voor onze longen. Leefruimte voor talloze planten en dieren. Schaduw tijdens warme zomerdagen. Bescherming tegen regen en wind.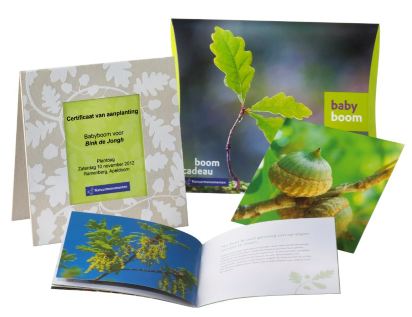 En bomen zijn een onuitputtelijke inspiratiebron voor verhalen. Niet voor niets zijn het belangrijkste symbool van de cyclus van de natuur. Een nieuw seizoen wordt direct weerspiegeld in het gebladerte van een boom en elke lente staat voor een nieuw begin.
Zelf planten
De ontvangers kunnen hun boom zelf planten op een boomplantdag van Natuurmonumenten. Bijvoorbeeld op de Ramenberg bij Loenen op de Veluwe, maar er zijn meer locaties door heel Nederland. Het gaat altijd om bijzondere gebieden die bomen goed kunnen gebruiken. Bomen die de natuur ter plekke versterken. En plekken waar je tientallen jaren na dato nog kunt nagenieten van de boom die ooit als gift is geplant.
Vier varianten
Doe mee en geef een boom cadeau. Er zijn vier varianten:
• Een cadeauboom, ideaal voor bijvoorbeeld een bruiloft of jubileum.
• Een vriendenboom, heel geschikt voor bijvoorbeeld een verjaardag of feest.
• Een babyboom tere ere van een geboorte.
• Een feestelijke cadeauboom voor kerst.
Alle varianten kosten € 25 inclusief bezorgkosten.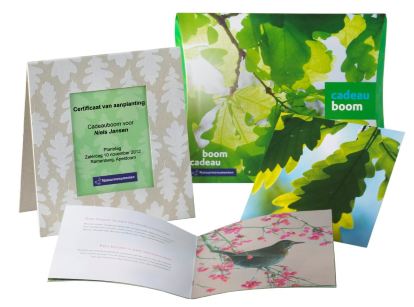 Boomcadeau bestellen
Bestellen kan eenvoudig via de website van Natuurmonumenten: www.natuurmonumenten.nl/boomcadeau. U ontvangt dan geschenkverpakking met persoonlijk certificaat van aanplanting in fotolijstje en felicitatiekaart en een boekje met uitleg over hoe je de cadeauboom zelf kunt planten.