Vitaler in een stralingsarme woon-, werk- en leefomgeving
Interview met woonbioloog Koen van Biesen, Geo-Phiscis. Door Marloes van Mensvoort (initiatiefneemster petitie) & Aimée Bohncke, namens Actiegroep Verminder Electrosmog
Lees hier ook het bijbehorende artikel; "Vitaler in een stralingsarme woon-, werk- en leefomgeving!
Koen van Biesen is woonbioloog bij Geo-Phiscis, gespecialiseerd in het creëren van balans bij schadelijke stralingsinvloeden in woningen, bedrijfsruimten en dierverblijven door middel van onderzoek, advies en behandeling. Koen heeft inmiddels al meer dan 10 jaar ervaring op dit gebied, wat zegt Koen over dit opkomende fenomeen en de petitie?
Koen, kun je ons misschien iets meer vertellen over wat electrosmog precies is?
Elektrosmog is een populairwetenschappelijke uitdrukking voor de milieuvervuiling door onnatuurlijke elektromagnetische velden (afgekort EMV). Smog refereert naar "mist". Zou je alle EMV waarin we leven een kleur geven, dan zouden we letterlijk in een zeer dichte en kleurige mist lopen. In ons dagelijks leven is deze elektrosmog al om aanwezig, deze elektrosmog creëert bij mens, dier en plant elektrostress. Deze stress is een uiting van het lichaam dat ze van elektrosmog ziek wordt.
Wat zijn de eventuele of bewezen gezondheidseffecten?
Er zijn ondertussen 20.000 studies die een biologische effecten op mens, dier en plant aantonen. Waar zal ik beginnen? Het BioInitiave Report , opgesteld door een groep onafhankelijke wetenschappers, geeft een overzicht van vele schadelijke effecten. Verder laat bijvoorbeeld het grootschalige Reflex onderzoek zien dat door EMV DNA schade ontstaat. Tevens laten studies zien dat de hersenactiviteit verstoord wordt en dat de REM slaap wordt beïnvloed. Zo kan ik doorgaan. De lijst van onderzoek en resultaten met negatieve gezondheidseffecten is erg lang. Op www.stopumts.nl wordt een erg goed overzicht gegeven van alle onderzoeken.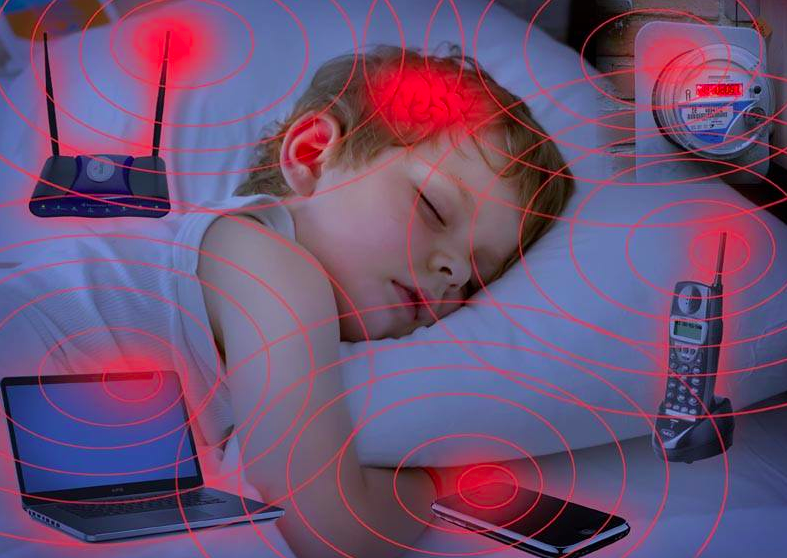 Inmiddels heb jij al de nodige ervaring op dit gebied, wat heb jij in die tijd zien gebeuren?
Meer dan 14 jaar onderzoek ik woningen op de aanwezigheid van elektromagnetische velden (EMV) en begeleid ik getroffenen van elektrostress in hun weg naar herstel en gezondheid. Ik zie telkens weer dat mensen die gevoelig reageren op EMV in stralingsarme omgevingen direct opknappen. Letterlijk alsof er een knop omgaat. De laatste jaren zie ik dat het verkrijgen van een stralingsarme leefomgeving een steeds uitgebreidere pakket aan maatregelen vraagt. Het gebruik van draadloze handhelds en bijbehorende zenders is extreem toegenomen. Daarom is het steeds belangrijker geworden om met deze apparaten bewuster om te gaan om de blootstelling aan EMV te minimaliseren.
Signaleer jij wellicht ook veranderingen in de klachten waarbij mensen bij jou terecht komen? En in welk tempo als jij dit vergelijkt met de voorgaande jaren dat je werkzaam was als woonbioloog?
Het klachtenpatroon is bij de mensen sterk gewijzigd. Waar 15 jaar de getroffenen vooral chronische klachten hadden zoals slaapproblemen, zie ik tegenwoordig naast de chronische klachten steeds meer acute klachten waarbij de betroffen zeer sterke pijnlijke sensaties ervaren. Een groeiende groep van mensen bouwt in toenemende mate een intolerantie op voor EMV. Dit is zeer zorgwekkend, de weg van herstel is voor deze groep namelijk steeds langer en om te herstellen is een stralingsarme omgeving cruciaal. En juist een stralingsarme omgevingen, de zogenaamde witte zones in Nederland, worden steeds schaarser.
Doordat ik vooral met artsen en therapeuten samenwerk, krijg ik veel doorverwijzen van patiënten die sterk door straling belast zijn. Daar waar de patiënt en de belasting in zijn omgeving reduceert en actief aan de slag gaat om zijn eigen weerbaarheid te verhogen, zie ik de beste resultaten. Zo heb ik de prachtige ervaring van een patiënte die 3 jaar geleden nauwelijks uit bed kon komen. Nadat en het huis stralingsarm was gemaakt en haar immuniteit intensief door een arts was behandeld, kon ze recentelijk weer de salsa dansen en starten met haar studie!
Welke ontwikkeling is er gaande tussen leefomgeving en gezondheid, zie je een tendens? En wat zijn de effecten hiervan?
Ik zie twee opvallende tendensen. Enerzijds zie ik dat het gebruik van EMV een isolerende, verhardende en verstarrende werking heeft op de mens. Zowel fysiek als emotioneel. Ik hoor veel betroffenen vertellen "het lijkt wel of ik metalen draden in mijn lichaam heb" en "ik kan steeds moeilijker voelen, het lijkt wel of ik verdoofd wordt". Bij een toenemende groep van mensen zie ik dat ze niet meer volledig kunnen voelen. Voor deze groep is het lastiger om contact te maken en in de fysieke werkelijkheid in aandacht bij een ander mens te zijn. Ik vind dat een enorme verschraling van de kwaliteit van leven. Anderzijds zie ik een sterke opkomst van mensen die een "mindfull" leven wensen. Ik zie dat deze groep van mensen er bewust van is dat gevoel, contact en aandacht voor je innerlijke leven en voor elkaar wezenlijk is voor je welbevinden. Trouwens het interessante is dat ik zie dat de groep "mindfull" levende mensen veel minder "angst" hebben.
Wat gebeurt er als we op deze manier doorgaan?
Ondanks de overtuigende wetenschappelijke bewijzen dat EMV schadelijk is, zie ik dat de industrie en vooral de Nederlandse staat eenzijdig en consequent elk mogelijk negatief effect van EMV in relatie tot gezondheid ontkent. Dit is een zeer zorgwekkende ontwikkeling. Deze eenzijdigheid zie ik niet of minder in andere landen, zoals België en Frankrijk. De bevolking wordt daar, rekening houdend met het voorzorgsprincipe, terecht gewaarschuwd voor de negatieve effecten van EMV. Ook de Europese Raad en het internationale instituut voor kankeronderzoek (IARC) hanteren dit voorzorgsprincipe en erkennen dat EMV mogelijk kankerverwekkend is. Blijft de Nederlandse staat vasthouden aan deze subjectieve eenzijdigheid dan zie ik dat de groep van stralingsbetroffenen de komende jaren verder sterk zal toenemen. Deze ontwikkeling is letterlijk en figuurlijk pijnlijk en niet nodig.
Een heel belangrijk initiatief, die mijn ondersteuning volledig heeft met de ondertekening ervan in augustus 2013!
Om af te sluiten, wat doe jij als woonbioloog hieraan (hoe bied jij bescherming en bescherm jij jezelf?)
Ik hanteer de slogan "Verminder belasting, verhoog weerbaarheid". Verminder belasting: Verdiep je in de bronnen die elektrosmog veroorzaken en reduceer de straling in je eigen leefomgeving. Vergeet daarbij met name je slaapplek niet! Vele eenvoudige maatregelen kunnen al sterk de straling reduceren. SMS meer, bel minder, als je belt dan met een (stralingsarme) koptelefoon. Hou draadloze technologische oplossingen simpel en overzichtelijk en zorg ervoor dat de draadloze optie met de hand uitgeschakeld kan worden(zie ook de tips in dit artikel en bekijk de gegeven websites voor meer tips). Verhoog weerbaarheid: neem je eigen lichamelijk klachten serieus, onderzoek waar ze vandaag komen. Van nature hoor je diep te slapen, kan je lichaam soepel en ontspannen zijn. Is het anders? Ga op onderzoek uit en verhoog je weerbaarheid. Door de jaren heen heb ik zo veel mensen hierdoor zien opknappen en kunnen nu weer een normaal leven leiden.
Tot slot… Vandaag viel de krant in de bus met een artikel over het "Smartphone Zombie" probleem in Japan, mensen die verslaafd zijn aan hun mobiele telefoon en niet meer in het sociale verkeer aanwezig zijn en letterlijk daardoor zonder te kijken de straat oversteken en verongelukken. Dit typeert precies waar het omgaat. Laat je niet slaaf maken van de technologie, gebruikt het als een hulpmiddel. Door het ontbreken van een overheid die staat voor de gezondheid van de burger, is het van belang zelf deze verantwoordelijkheid te nemen. Op elk apparaat zit een knop waar "uit" op staat en mijn advies is: gebruik deze knop. Beperkt je blootstelling aan EMV door een reeks van apparaten in je dagelijkse leven regelmatig "uit" te zetten. Blijf daarnaast zowel fysiek, sociaal en emotioneel fit en in contact met je medemens, vergeet daarbij ook niet de dieren en planten. Op deze wijze zie ik telkens dat mens, dier en plant een ontspannen en vitaal leven kunnen leiden. En vergeet natuurlijk tot slot niet je stem te laten horen aan overheid en industrie en daarvoor is er gelukkig de petitie http://petitie-electrosmog.nl.
Is uw interesse gewekt? Lees dan ook het informatieve artikel over de gezondheidseffecten van straling: "Vitaler in een stralingsarme woon- werk- en leefomgeving!" en vind meer informatie op onderstaande websites! Zie de website van Koen van Biesen voor meer informatie over zijn werkzaamheden en contactgegevens.
Websites: