Blog door Astrid
Sommige dingen lijken hopeloos. Neem bijvoorbeeld dit stuk touw, wat een hele boel stof en vuil lag te verzamelen op straat. Het was zelfs al een beetje aan het vergaan, zag ik aan de dunne broze draden. Maar ja, ik had al gebukt om het op het op te rapen dus besloot ik het toch maar mee naar huis te nemen. Ik kon het altijd nog in de prullenbak gooien, dus in het slechtste geval had ik een stuk zwerfafval opgeruimd.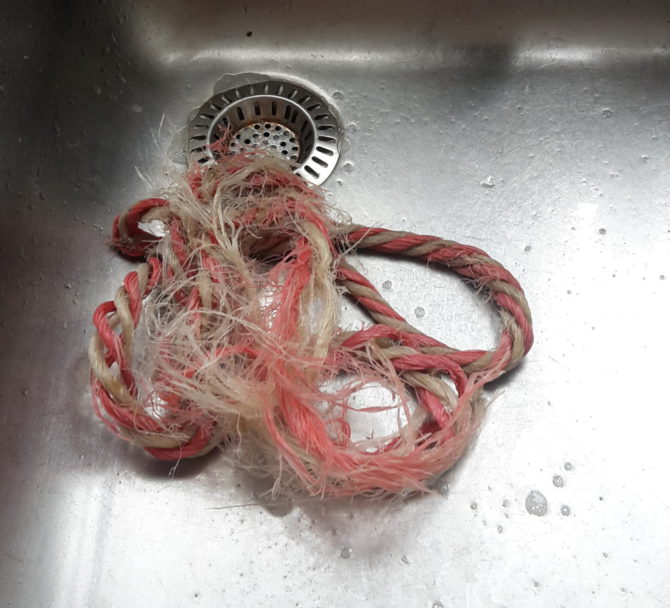 ´Daar kun je toch niets meer mee?´ hoorde ik toen ik thuis kwam. Mijn vriend stond me met een opgetrokken neus verbaasd aan te kijken. Hij is de grootste ambassadeur van mijn ge-upcyclede sieraden en mijn schooiergedrag heb ik misschien wel van hem overgenomen. Ons hele interieur bestaat inmiddels uit spullen die van straat komen en ik moet af en toe streng optreden om te voorkomen dat de woonkamer geen magazijn vol gevonden meubelstukken wordt. Desondanks zag hij in mijn nieuwe vondst geen toekomst. In eerste instantie zag ik die toekomst ook niet rooskleurig in, maar op een andere manier word ik altijd enorm getriggerd door dit soort opmerkingen. Dan komt er een soort bewijsdrang bij me naar boven die wil laten zien dat het wèl kan. Ik ging er daarom meteen mee aan de slag en begon het ranzige geval te wassen. Misschien viel het onder het stof en zand wel mee? Dit was inderdaad het geval want onder de viezigheid bleek er toch iets van kleur verborgen te zitten. Maar het was nog steeds een versleten stuk touw.
Van afval tot armband, zó doe je dat
In zo´n geval leert mijn ervaring dat je het touw uit elkaar kunt trekken tot losse draden. Met deze draden kun je bijvoorbeeld vlechten of knopen om het weer sterk en strak te maken. Nadat ik met deze vlechten een armband had geknoopt, was ik al aardig tevreden met het resultaat. Om het stuk straatafval een chique uitstraling te geven, naaide ik er nog wat kraaltjes op.
Et voilà! Het bewijs was weer geleverd: Alles kan mooi zijn.
Je moet er soms alleen even wat tijd, liefde en creativiteit in stoppen.
Mijn naam is Astrid
En ik ben een recycle-freak. Op straat buk ik regelmatig om iets op te rapen, strandjutten is dan ook een hobby van me. Niet omdat ik het nou zou leuk vind om rotzooi op te slaan in mijn huis maar omdat ik er blij van word als een afgedankt product verandert in iets moois. Met dat proces kan ik uren of zelfs dagen achter elkaar bezig zijn.
Veel van mijn creaties, ook die van avocado-pitten, zijn te koop via Etsy.
www.vanstraat.nl
Lees ook:
Niets missen van De Betere Wereld?
Like dan onze Facebook-pagina en blijf op de hoogte.
Of schrijf je in voor onze wekelijkse nieuwsbrief.