Tot 35% besparing op woonlasten
Ruim en comfortabel wonen onbetaalbaar? Niet met Duurzaam Droomhuis, waarin de nieuwste ontwikkelingen in duurzaam bouwen verenigd worden. Sterker; het concept is ontstaan uit de wens goedkoop vrijstaand te kunnen bouwen!
Door Nanny Schutte
Niels Leijen uit Bergen, werkzaam in de bouw, koesterde de wens een eigen vrijstaand huis te bouwen. Als starter op de woningmarkt met beperkt budget bedacht hij het slimme concept van een betonnen souterrain met slaapkamers, dat tevens de fundering vormt van het huis. Zo werden de bouwkosten per kubieke meter ten opzichte van traditionele bouw meteen al gehalveerd.
Een souterrain of kelderverdieping ligt half beneden de oppervlakte, dus in de grond. Afwerking aan de buitenkant met metselwerk en dergelijke is zodoende niet nodig en bespaart dus eveneens kosten. Bijkomend voordeel is de constante temperatuur in het souterrain; 's zomers heerlijk koel, 's winters behaaglijk warm. Juist, energiebesparend.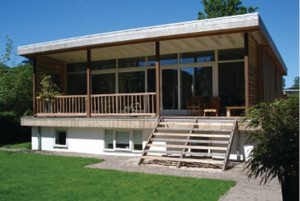 Goedkoop, gezellig en… duurzaam!
Voor het woonhuis, op het souterrain, gebruikte Leijen deels tweedehands bouwmaterialen, zoals constructiebalken en dakpannen. Niks uitgeklede, kale starterswoning, dit houten huis met veranda oogt gezellig, modern en heeft een typisch Hollandse sfeer. Binnen een half jaar was het klaar, ruim binnen het budget. Het aanvankelijk puur goedkoop bedoelde woonhuis bleek bovendien alle ingrediënten in zich te hebben voor een duurzame woning. Ook buurtbewoners waren enthousiast en dachten mee over hoe de woning zo duurzaam mogelijk kon worden ingericht. Duurzaam Droomhuis was geboren!
Tot 35% besparing mogelijk op woonlasten
Duurzaam (ver)bouwen is hot, de belangstelling neemt toe. Duurzaam Droomhuis combineert de modernste technologische toepassingen, superefficiënte ontwerp- en bouwmethoden en interessante fiscale mogelijkheden. Ook bij de inrichting van het huis kan hulp en advies geboden worden. Een eigenaar van een Duurzaam Droomhuis kan al met al tot maar liefst 35% besparen op de totale woonlasten!
Van huis naar leefomgeving
In de pilotwoning, die eind 2011 gereed zal zijn, zullen de laatste innovaties op het gebied van energiebesparingen en duurzame toepassingen verwerkt worden. Zo maakt de Stichting Duurzaam Droomhuis concreet wat de mogelijkheden zijn. Doel is uiteindelijk complete straten en wijken klimaatneutraal (of liever energieopwekkend) te ontwerpen, ontwikkelen, bouwen en op te leveren. Collectieve regelingen voor bijvoorbeeld windmolens, oplaadpalen en warmtepompen maken daar deel van uit. Stap voor stap kan de woonomgeving zo verder verduurzaamd worden. Denk ook aan natuurwinkels en speelvelden en dergelijke. Bewoners worden daarmee gestimuleerd een duurzame levensstijl te ontwikkelen.
Samenwerking
Duurzaam Droomhuis is een initiatief van de Bergenaren Niels Leijen, Chris van Vleuten en Almar Fernhout. Niels, bouwregisseur, is het aanspreekpunt van een consortium van sterke en betrokken partners die met kennis en kapitaal in de Stichting Duurzaam Droomhuis participeert. Partners die zich herkennen in de filosofie van de Stichting Duurzaam Droomhuis zijn van harte welkom om kennis te komen maken. Ook wanneer u, als particulier of als medewerker van een gemeente, woningbouwcoöperatie of een andere instelling, geïnteresseerd bent in onze projecten, wordt u uitgenodigd contact met ons op te nemen!
Stichting Duurzaam Droomhuis
Prins Bernhardlaan 14
1862 EM Bergen NH
tel. 072 581 4789
info@duurzaamdroomhuis.nl