Wat onderscheidt Vitals?
Biologische sapjes, superfoods, ontbijtgranen, Paleo-dieet…, de gemiddelde Nederlander is er maar druk mee. "Het is heel goed nieuws dat we met z'n allen meer onbewerkt en biologisch voedsel gaan consumeren, toch ben ik ervan overtuigd dat een supplementen belangrijk zijn."
De Betere Wereld ging in gesprek met Bolke Koster, directeur bij Vitals.
Gezondheid is iets wat steeds meer mensen bezighoudt, wat is de rol van voedingssupplementen?
Hoe komt het dat iemand weinig energie heeft, of dat iemand bepaalde pijntjes heeft, of gezondheidsklachten? Bij Vitals geloven we er heel erg in dat er een onderliggende oorzaak is waarom een deel van het lichaam niet optimaal functioneert, en dat die onderliggende oorzaak vaak een tekort aan een bepaalde vitamine, mineraal of andere lichaamseigen stof is. Een stof die van nature in het lichaam voorkomt, is onvoldoende aanwezig en dat zorgt ervoor dat een bepaald proces niet optimaal werkt. Je hebt nooit een tekort aan paracetamol of een andere symptoombestrijder.
Je hebt vele soorten supplementen, wat onderscheidt Vitals van andere merken?
We zijn de eerste met een uitgebreide lijn van biologische voedingssupplementen. We vinden dat je ook op het schap met vitamines moet kunnen kiezen voor biologisch. Waar Vitals verder in uitblinkt, is samenstellingen met optimale opneembare vormen van vitaminen, mineralen et cetera. En bovendien in doseringen die ertoe doen op basis van een gedegen onderbouwing. Tenslotte mag NANNYcare geitenmelk niet ongenoemd blijven; heerlijke, licht verteerbare flesvoeding uit Nieuw-Zeeland.
Is het nodig extra supplementen te slikken als je gevarieerd en gezond eet?
Het is natuurlijk heel goed nieuws dat we met z'n allen weer meer en meer onbewerkt en biologisch voedsel gaan consumeren en steeds meer gezonde voeding zoals groente, fruit, noten, zaden, vis, etc. Dat vind ik fantastisch. Toch ben ik ervan overtuigd dat een goede multivitamine zoals Elke Dag nog steeds een belangrijke aanvulling is. Sommige stoffen zoals vitamine D of vitamine K2 krijg je met een Westers dieet eigenlijk niet in voldoende mate binnen. Verder is het belangrijk dat je kritisch naar je eigen voedingspatroon kijkt, eet je bijvoorbeeld twee keer per week vette vis? Het percentage mensen dat iedere dag 400 gram groente en fruit consumeert, is echt heel laag. Bovendien holt het aantal vitamines en mineralen in voeding achteruit door het steeds intensievere gebruik van landbouwgrond en door het doorkweken omwille van hogere opbrengsten en zoetere smaken.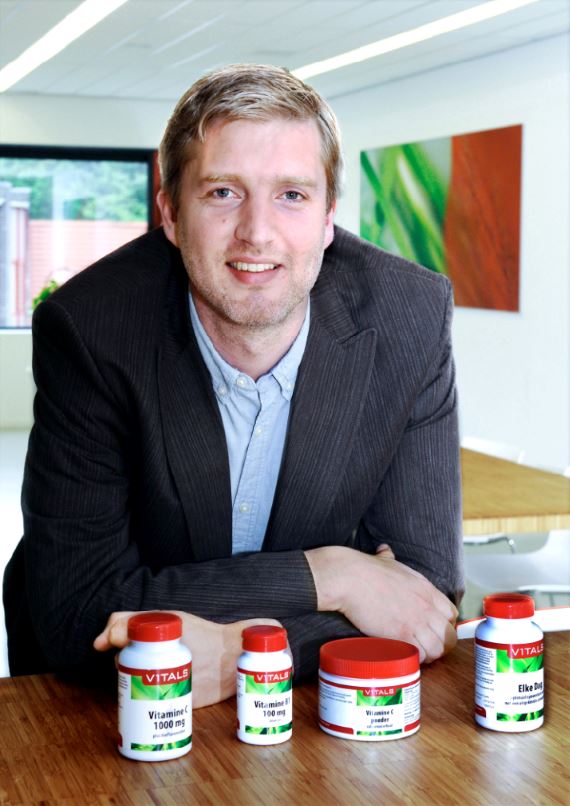 Hoe puur zijn jullie producten (krijgen regelmatig vragen over vulmiddel etc)?
Je kunt erop rekenen dat een merk dat zich zo verdiept in de beste vormen en verbindingen van de werkzame stoffen zich ook grondig verdiept in het gebruik van onschadelijke hulpstoffen. Sommige producten zijn poeders en bevatten helemaal geen hulstoffen, andere zijn capsules waarvan alleen de vegetarische capsule zelf een hulpstof is. Maar we gebruiken ook tabletten waar je toch wat aan toe moet voegen om te zorgen dat hij niet uit elkaar valt en makkelijk doorgeslikt kan worden. We gebruiken zo min mogelijk hulpstoffen en geen enkele waarvan aangetoond is dat zij schadelijk is, ook al is het bij beperkt gebruik.
Hoe weet je nu welk supplement je nodig hebt?
Begin altijd met een goede multivitamine en visolie. Vraag meer advies aan uw winkelier en als u echt klachten heeft, bezoek dan een orthomoleculair arts of therapeut. Dat is mijn advies.
Moet je pas na een bepaalde leeftijd starten met supplementen?
Dat raad ik zeker niet aan en zo doe ik het zelf ook niet met mijn kinderen. In elke fase van je leven zijn er weer andere stoffen waar je extra behoefte aan hebt. Een lichaam in de groei heeft veel nodig en in de bloei van je leven kun je veel doen om te zorgen dat je straks vitaal ouder wordt.
Bestaat er kans op overdosering?
Eigenlijk niet. Er worden normaal gesproken zeer ruime veiligheidsmarges gehanteerd. Natuurlijk moeten de producten van goede kwaliteit zijn en met kennis van zaken worden geadviseerd. Het zijn medicijnen die de ernstigste bijwerkingen hebben en niet de voedingssupplementen.
Waar zijn de Vitals producten verkrijgbaar?
De biologische supplementen en NANNYcare geitenmelk zijn onder andere verkrijgbaar bij natuurwinkels zoals Ekoplaza. Verder staan we bij zelfstandige adviesdrogisten en vitaminespeciaalzaken. En online zijn we natuurlijk volop verkrijgbaar, van bol.com tot allesvanvitals.nl.
Hoe kan het dat er zo'n groot prijsverschil bestaat tussen verschillende merken?
Natuurlijk speelt schaalvoordeel een rol. Wereldwijde merken kunnen veel groter en dus voordeliger inkopen. Maar verder wordt het verschil vooral gemaakt door de opneembaarheid, de zuiverheid en de dosering. Bij enkelvoudige vitaminen en mineralen zie je veel verschillen in opneembaarheid. Zo wordt magnesiumoxide veel minder goed opgenomen dan bijvoorbeeld magnesiumcitraat. (Tip, als de verbinding er niet op staat, voorspelt dat niet veel goeds.) Bij producten zoals multivitamines of visolie zie je bovendien veel verschil in dosering. Veel goedkopere merken houden bijvoorbeeld vast aan 100% ADH, maar die hebben zich totaal niet verdiept in wat je nodig hebt om vitaal oud te worden. Let bij visolie vooral op de hoeveelheid EPA en DHA (de twee werkzame stoffen) per capsule en niet op de hoeveelheid visolie.

Lees meer:
> Wereldmarktleider lanceert 100% biobased verpakking
> Wildplukken is een hype lees hier waarom.. (Winactie!)