Anne van www.annetravelfoodie.com inspireert haar lezers graag om gezonder te eten. Maar wat eet Anne nou zelf op een dag?! Graag deelt ze graag haar eetdagboekje met ons!
7:00 Ontbijt
Naast mijn website werk ik ook 4 dagen per week als drama docent op een middelbare school. Ik moet dus vaak vroeg op! Desondanks maak ik altijd tijd voor een goed ontbijt. Hoe vroeg de wekker ook gaat, ik trek een uur uit om mijn lunch klaar te maken en te ontbijten.
Mijn ontbijt is altijd wat vers fruit, muesli (suikervrij), noten, lijnzaad en ongezoete soya yoghurt. Meestal voeg ik 1/4 appel toe en snijd ik de rest in partjes als snack voor in de namiddag opwerk. Ook voeg ik een ½ kiwi toe en eet ik de andere helft meteen op. Verder gebruik ik wat in het seizoen of in de aanbieding is, zoals wat blauwe bessen. Daarnaast drink ik een grote kop groene thee bij mijn ontbijt. Klik hier voor meer gezonde ontbijt recepten.
10:30 Snack
Als ik op mijn werk aankom rond 8 uur neem ik weer een kopje groene thee. Om half 11 heb ik pauze en drink ik nog een kop thee en eet ik een banaan. Ik drink doordeweeks nooit iets anders dan thee en water. Ik vind het zonde om calorieën te drinken, ik eet ze liever!
13:15 Lunch
Mijn lunch bestaat uit twee boterhammen met hummus en avocado. Mijn gouden tip: koop volkorenbrood! Iedereen weet inmiddels wel dat witbrood niet gezond is, maar wellicht weet je nog niet dat meergranen brood niet zo gezond is als dat het eruit ziet. Check de verpakking om te zien of je brood echt volkoren granen bevat. Je zal je verbazen dat er maar zo weinig volkorenbrood te koop is in de supermarkt, maar het is echt het gezondst.
Ik maak mijn lunch altijd zelf thuis al klaar, zo kom ik niet in de verleiding om ongezonde dingen te kopen in de kantine. En ik drink weer een grote kop thee bij mijn lunch!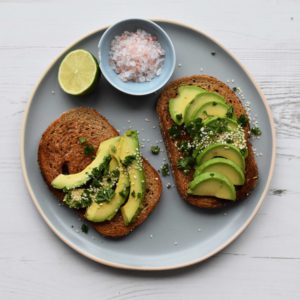 15:15 Snack
Als mijn lessen voorbij zijn drink ik weer een kop thee en eet ik de appelpartjes die ik 's ochtend had gesneden. Na ongeveer een uur neem ik nog een snack; een plakje bananenbrood. Een keer in de twee a drie weken bak ik een bananenbrood. Die snijd ik dan in plakjes en vries ik in. 's Ochtends hoef ik dan alleen maar een plakje uit de vriezer te halen. De meeste tussendoortjes die je in de supermarkt kan kopen zijn niet zo gezond als ze lijken. Kijk maar eens het etiket om te zien hoeveel toegevoegde suikers erin zitten of hoeveel calorieën je mueslireep bevat. Een bananenbrood heb je zo gebakken en ik snijd er meestal zo'n 12 plakjes uit dus je hebt genoeg voor ruim 2 weken een snack op het werk.

19:30 Avondeten
Mijn ontbijt en lunch zijn elke werkdag redelijk hetzelfde, maar mijn avondeten varieert enorm. Er zijn altijd nog zoveel recepten die ik wil maken dat ik bijna nooit een maaltijd maak die ik in de maanden daarvoor ook al eens heb gemaakt. Het hoofdingrediënt van mijn maaltijd is altijd een groente. Ik ben gek op spinazie, champignons, pompoen, zoete aardappel en aubergines.
Zorg dat je geen witte pasta of rijst eet, maar ga voor volkorenpasta of zilvervliesrijst. Ook volkoren couscous of bulgur is een goed graan om toe te voegen aan je avondmaaltijd. Ik ben sowieso fan van couscous omdat het zo makkelijk te bereiden is en je het met praktisch alles kan combineren. Ik gebruik het vaak als ik nog wat groenten in mijn koelkast heb die op moeten. De couscousmaaltijd op de foto is met courgette, champignons, rode uit, rucola en falafel.
Ik eet vegetarisch dus je zal geen vlees of vis in mijn avondmaaltijden aantreffen. Maar ik heb nooit het gevoel dat ik iets mis omdat ik altijd vanuit de groenten denk. Vind je het lastig om je vlees weg te laten maar wil je wel graag minder vlees eten? Gebruik dan een vleesvervanger. Je zal je verbazen over de goede kwaliteit en enorme variatie aan vleesvervangers die je tegenwoordig in de supermarkt kan vinden. Meer couscous recepten?
Dat ziet er allemaal heerlijk uit, bedankt voor het delen Anne!
Hi! Welkom bij De Betere Wereld, hét platform voor iedereen die bewuster wilt leven.
Ik vertel jullie graag meer over een healthy lifestyle. Vegan receptjes, healthy hotspots, tips & tricks én nieuwe producten. Veel leesplezier!
Liefs, Sanne
Lees ook:

Anne Travel Foodie: Mango Smoothie Bowl
Anne Travel Foodie: Zoete aardappel taartjes
Anne Travel Foodie: healthy hotspot Yoghurtbarn
Niets missen van De Betere Wereld?
Like dan onze Facebook-pagina en blijf op de hoogte.
Of schrijf je in voor onze wekelijkse nieuwsbrief.