Luchtzuivererende planten voor in je huis - dit is de Top 5
Kamerplanten die de lucht binnenshuis of in kantoor zuiveren, kunnen je van je hoofdpijn, Sick Building Syndrome en andere gezondheidsellende af helpen. Dit is onze top 5!
Er zweeft heel wat door de lucht in je woning of kantoor. Gassen als benzeen, formaldehyde en trichlooretheen komen vaak vrij uit houten platen en meubels. Ook traditionele schoonmaakmiddelen, verf en onderhoudsmiddelen om bijvoorbeeld hout of het alu keukenblad te verzorgen, moeten 'uitdampen' en zorgen dus voor luchtellende. En wij ons maar afvragen waarom zoveel ouderen en kinderen steeds meer last lijken te hebben van ademhalingsaandoeningen als astma en COPD als ook hoofdpijnen. Gelukkig is hier heel wat aan te doen:
Kortom, we gaan een paar planten kopen! En die kamerplanten hoeven zeker niet heel de wereld te kosten.
Luchtzuiverende planten
Krulvaren (Nephrolepsis) als kamerplant
Behalve dat onze groene vriend de lucht in je huis filtert, zorgt deze varen, een van oudste planten ooit, ook voor een goede luchtvochtigheid. Prima keuze als je ademhalingsproblemen of op andere manier last heb van droge lucht. Meer info.
Lepelplant (Spathiphyllum) als kamerplant
De prachtig gestileerde plant is de lieveling van het Amerikaanse NASA. De wetenschappers bewezen dat kleine openingen in de bladeren de lucht zuiveren van giftige stoffen zoals methanol en ammoniak. Prima maatje voor na het schoonmaken dus (al doet je natuurlijk liever met deze natuurlijke schoonmaakmiddelen of deze)!
Indische Rubberboom (Ficus Elastica) als kamerplant
Alle drie soorten zien er prachtig uit, zijn zeer luchtzuiverend en verkrijgbaar in allerlei verschillende hoogten. En dus varieert de prijs van een paar luttele tot een paar honderd euro's. Meer info.
Aloë Vera als kamerplant
De bekende benzeen en formaldehyde uit de lucht, de plant is ook superfijn om in huis te hebben om te gebruiken in kleine noodgevallen: smeer de verse gel uit de bladeren bijvoorbeeld op je huid als je verbrand bent of als je een wondje hebt. Dit zorgt ervoor dat je sneller geneest.
Ik schreef paar dagen eerder een artikel over de toepassingen en helende werking van Aloë Vera.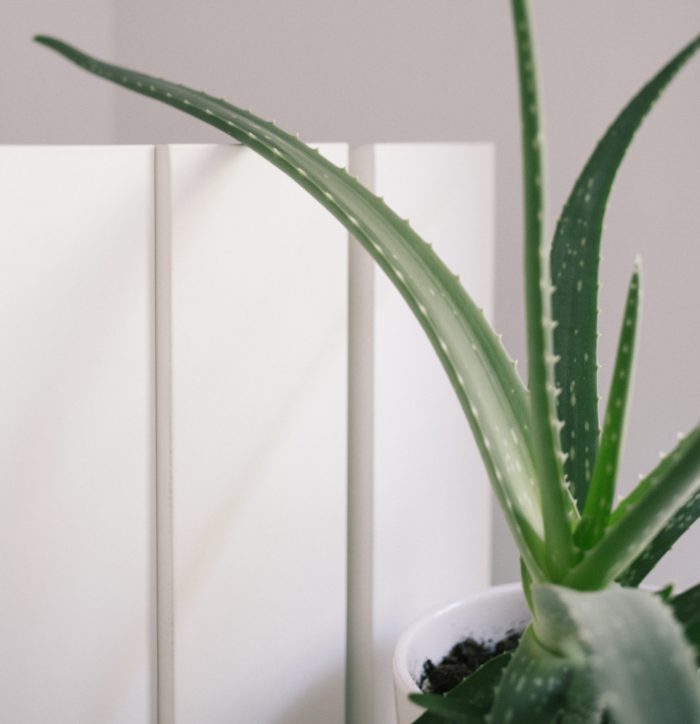 Zuurstofrijke plant voor in je slaapkamer
Bromelia Ananasplant (Ananas Comosus)
Ananas is niet alleen lekker, het doet ook veel goeds voor je slaap en je gezondheid. De Ananas Comosus is een bromelia-soort: de plant bevat het enzym bromelaïne, dat het heel goed doet als je last hebt van ontstekingen in je ademhalingssysteem zoals bronchitis. (Je kunt ook het sap beetje voor beetje uit gesneden stukjes biologische ananas zuigen, dat werkt ook prima.)
Ook niet zo heel gek, dat de Ananasplant daarom veel wordt ingezet in slaapkamers waar 'de ander' snurkt!
(En ja, vrouwen snurken ook.)
En omdat de Ananas Comosus in tegenstelling tot de meeste planten juist 's nachts zuurstof afgeeft, is dit dus de ideale plant voor in je slaapkamer.
(Overigens zou ik de vrucht niet eten, maar een fair trade en/of biologische ananas halen bij je favoriete natuurvoedingswinkel.)
Kamerplanten kopen
Van de plaatselijke kraam tot en met gespecialiseerde planten-walhalla's met aanwezige deskundigen, overal staan die groene kamerplanten naar ons te lonken. Hoewel ik iedereen zijn brood&beleg gun, zou ik gaan naar een adresje waar ze de tijd nemen, op je verzoek losgaan met allerlei info en de kamerplanten netjes bij je thuis bezorgen.
In Amsterdam kom ik dan al snel uit bij Wildernis. Wat en waar is jouw favoriete plantenzaak?
Online kopen kan natuurlijk ook: Bakker is zo'n beetje Europa's grootste (nee, wist ik ook niet!). Veel info, veel foto's per plant, etc, keurig.
Meer:
Alleen op dit baby- en kindermatras is het gezond slapen
De ultieme gids voor elke (aankomende) vegan
Regentonnen, duurzaam en stijlvol in je tuin